Aviation's pandemic winners and losers: CAPA Live, 11-Nov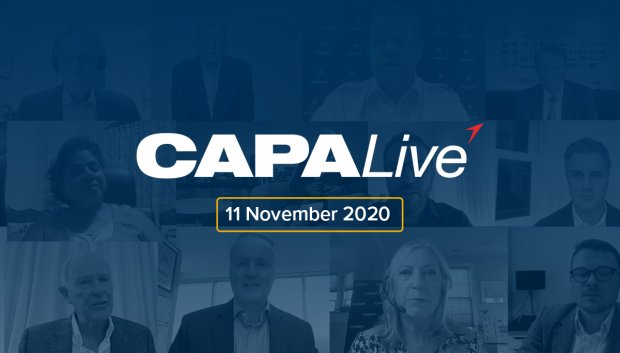 CAPA – Centre for Aviation will hold the CAPA Live November edition on 11-Nov-2020.
The virtual summit features aviation industry experts, leaders and insiders discussing the key issues in the age of the Coronavirus. Speakers and panellists will explore how aviation is looking back to the future as the winners and losers of the pandemic begin to emerge. The agenda will also explore the transformation of the sector's long term outlook and the prospects for recovery.
To help cut through the noise and confusion of this unprecedented time in aviation history, the second monthly instalment of CAPA Live includes live interviews with the CEOs and executives of major global airlines, including:
KLM President and CEO Pieter Elbers, Ryanair DAC CEO Eddie Wilson, Air Arabia Group CEO Adel Ali, Avianca CEO Anko van der Werff, Virgin Atlantic CEO Shai Weiss and Regional Express Executive Chairman Lim Kim Hai.
CAPA Live November 2020 will also hear from the breadth of the aviation and travel sectors. Leaders from the global tourism and airport community, as well as experts in corporate travel, distribution and the passenger experience will participate in major sessions across a range of topics.
Speakers and presenters include Pacific Asia Travel Association CEO Mario Hardy, ACI Asia-Pacific Director General Stefano Baronci, European Commission Director General Mobility and Transport Henrik Hololei, London Gatwick Airport chief commercial officer Jonathan Pollard, Airline Passenger Experience Association (APEX) CEO Dr Joe Leader, ERA Director General Montserrat Barriga and Skyscanner commercial director Gavin Harris.
View full article here: https://centreforaviation.com/analysis/reports/aviations-pandemic-winners-and-losers-capa-live-11-nov-543261