Spotter EXPO at AUA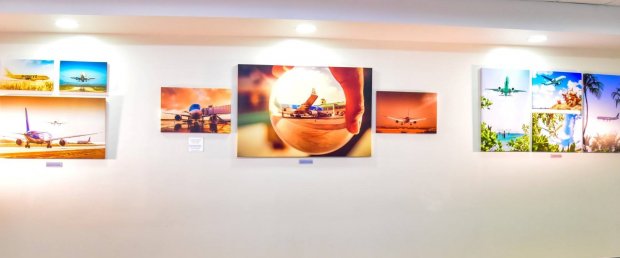 Aruba Airport Authority N.V. (AAA) proudly held the first Official Spotter's Day back in August, 2018. Aruba Airport acknowledges that there is a strong interest in plane spotting on the island. More and more spotters were tagging Aruba Airport in their photographs, and decided to create a special event just for them.
Aruba Airport launched the "Calling All Spotters" campaign back in April 2018 and received a well-rounded group of applicants. After the campaign, a screening process was conducted in order to select a group of 10 spotters who qualified to participate in the first ever Official Spotter's Day event. Furthermore, the selected group was invited to attend a required Safety Training at Aruba Airport before the main event took place to ensure that all participants are aware of the safety procedures of the airport while being on the air side to take their photographs.
As part of the Official Spotter's Day, the spotters had the opportunity to submit their top 3 photographs to the airport team. These photographs were posted on Aruba Airport's social media channels for a voting competition among the airport's followers. The winning spotter, Jean-Pierre Maduro was granted an expo inside Aruba Airport's terminal for a year with his top 10 photographs.
As one of the leading airports in the Caribbean, we continuously strive to create new and exciting opportunities to strengthen our airport's position in the industry and maintain a competitive edge. Although many airports in the Caribbean are known for their spotting locations, Aruba Airport wanted to go the extra mile for local plane spotters by organizing an Official Spotter's Day. It's our honor to award the best spotter with not one, but two expos inside the airport terminal. These expos at gates 4/5 and gate 2 help bring aviation to life inside the terminals as well. We congratulate Jean-Pierre with his marvelous collection of Aruba aviation pictures", said AAA's CEO Mr. James Fazio.
Spotter's Day 2019 will be held on August 10, 2019, and this time around both local and international plane spotters are invited to sign up for this unique opportunity.