KLM Celebrates 100 Years and soon 85 years to AUA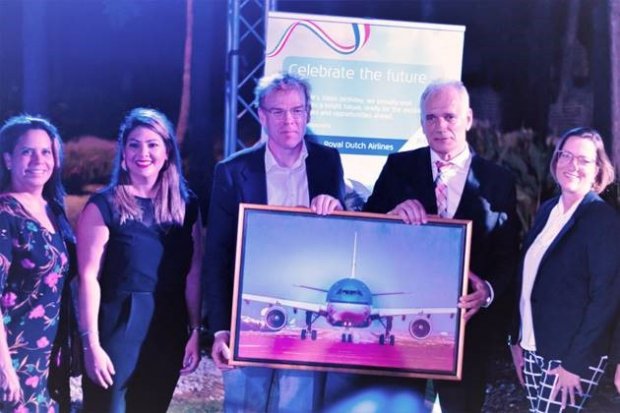 On October 7th, 2019 KLM celebrated their 100th anniversary. 100 years of bringing joy to families, 100 years of making dreams reality, 100 years of commitment to quality service, while committing to further develop each employee.

The 100 year celebration of the pioneer airline KLM is much more than just 1 milestone being reached: It's an accumulation of years of milestones that ensured the existence and stability of a large airline carrier that has always shown appreciation and love for the Caribbean region, especially for us here in Aruba. 100 years, of which 85 of them play an important role in the Aruban history that unofficially started on December 23rd, 1934. With the first official flight to Aruba being on January 19, 1935, KLM has managed to increase travelling between the islands with 63% in that same year.
On October 5th, 2019 KLM Dutch Caribbean invited key stakeholders and partners for a celebration where AAA's CEO Mr. Joost Meijs gave a congratulatory speech to the entire KLM team with a token of appreciation