The Aruba Queen Beatrix Airport Shortlisted for Routes Americas 2020 Award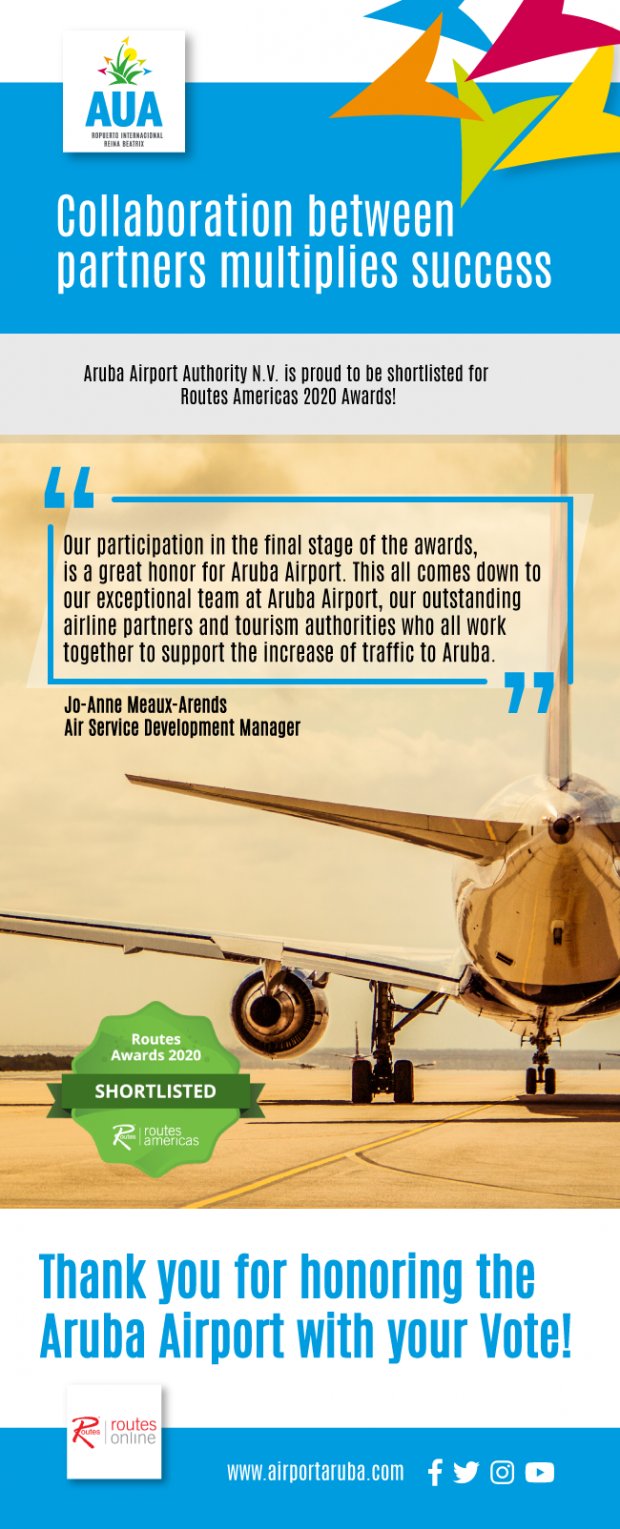 The news that Queen Beatrix Airport in Aruba landed again on the shortlist for the Routes Americas 2020 Awards, came as no surprise.
The airport has been nominated nine times in the past decade, in both marketing, and overall airport categories. It won high-commendations seven times in a row, was short-listed to win once, and won top honors in both categories three times, in 2010, 2013, and 2016.
In addition to earning Routes Americas Airport & Marketing accolades it had also earned the Routes World high commendations, in different categories, a number of times.
The annual Routes Awards are widely regarded as the most valuable award in the airline network planning industry.
The nomination process and voting take place every year, as airlines nominate up to five airports and destinations that they feel have provided exceptional marketing support.
Airlines are asked to submit their votes in priority order and when voting closes scores are calculated, by a professional panel of judges, thus providing the airline community with the chance to reward organizations delivering excellence in air service development marketing every year.
The shortlisted candidates are then asked to detail their marketing activities and support packages, substantiating their results and effectiveness, their route development, along with evidence of excellent relationships with airlines, innovative marketing techniques and creative applications.
Aruba Airport Authority N.V. operator and manager of Queen Beatrix airport in Aruba is proud to have been shortlisted for the prestigious Routes Americas 2020 Awards, again.
"Our participation in the final stage of the awards," says Jo-Anne Meaux- Arends, Air Service Development Manager," is a great honor for the island, and a well-deserved reward for the synergy we have achieved between our exceptional team members at the airport, our outstanding airline partners and the tireless representatives of the Aruba Tourism Authorities, who all work together to support the increase of traffic to the island."
In total, fourteen airports and five destinations in the Americas have been shortlisted for the Routes Americas 2020, following a competitive month of voting.
Queen Beatrix International Airport, secured a shortlisting in the 'under 4 million passenger category.'
To date, all shortlisted organizations have been contacted and asked to substantiate their efforts. The materials will be reviewed by a panel of senior airline executive judges again, this year. The winners will be announced at the upcoming Routes Americas 2020 Networking Evening, on Wednesday the 5th of February 2020 in Indianapolis, USA.
"We are immensely pleased to know the airlines value our efforts and appreciate working towards a common goal," states Jo-Anne Meaux- Arends," serving one of the busiest airports in the Caribbean region, with 27 different airlines moving over 2.5 million passengers per year, covering 32 non-stop gateways of which over 85% of all visitors are leisure guests, 75% from the United States & Canada, 12% from Latin America, 7% from Europe, and 6% from Dutch Caribbean."
"We're busy, yet we never lose sight of what's important," Meaux-Arends concludes.