AUA Airport Achieves ACI's Airport Carbon Accreditation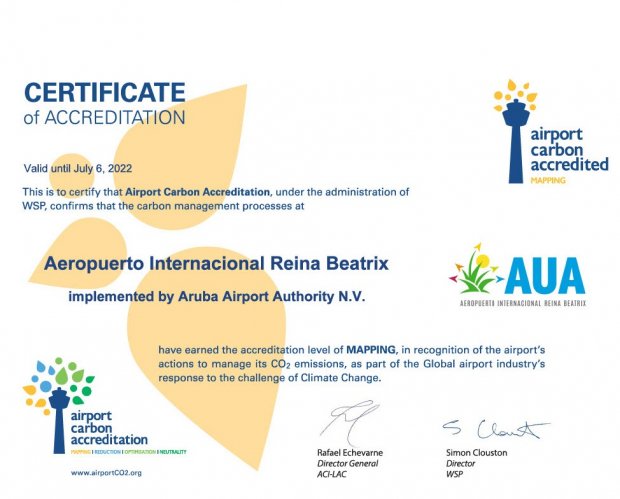 Aruba Airport has successfully achieved accreditation in Level 1 - Mapping | Carbon Footprint Measurement of the Airport Carbon Accreditation Programme.
"We welcome a new accredited airport in the Latin America and Caribbean region. AUA Airport has joined the select group of 35 climate smart airports in Latin America and the Caribbean who have certified their environmental efforts." mentioned Rafael Echevarne, Director General of ACILAC.
According to AAA COO Jurgen Benschop: "We're very excited about this news, this is the first step of our commitment to work towards reaching our sustainability goals and strive to reach Carbon Neutrality as part of our daily business processes and therefore also giving our contribution towards the protection of our environment. The planning is to proceed right away with level 2, which is the Reduction level. Congratulations to the entire team!"

AUA Airport received level 1 'Mapping' recognition for creating a complete & independently verified carbon inventory and outlining plans on how to reduce these emissions.
The Airport Carbon Accreditation programme is the industry standard for airport carbon
management certification. With 4 different levels of accreditation covering all stages of carbon management (Mapping, Reduction, Optimisation and Neutrality), Airport Carbon Accreditation is independently administered, institutionally-endorsed and has the support of the United Nations Framework Convention on Climate Change (UNFCCC), United Nations Environment Programme (UNEP), the International Civil Aviation Organisation (ICAO), US Federal Aviation Administration and the European Commission (EC).
AUA Airport is committed to continue with the following 3 levels in the years ahead! For moreinformation please visit www.airportcarbonaccreditation.org/