Crystal Blueversary for JetBlue at AUA Airport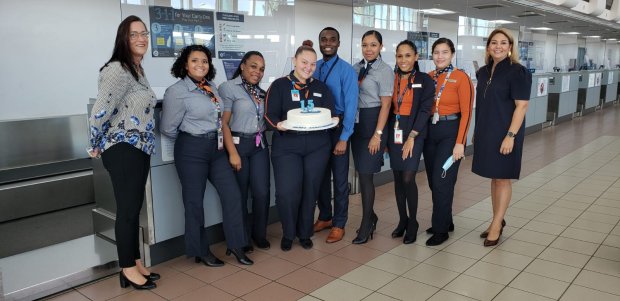 It's a blue month here in Aruba, as we celebrate JetBlue's 15th "Blueversary" (anniversary) operating into Aruba.
ORANJESTAD: On Wednesday, September 15, 2021, the AUA Airport and the JetBlue Airways team celebrated with a cake and snacks, JetBlue's 15th "Blueversary" (anniversary) operating into Aruba.
It all started with the announcement back in 2006 that JetBlue would start its operation into Aruba out of its home base, New York's John F. Kennedy International Airport (JFK), with daily flights. Soon after that, in June 2007, weekly service out of Boston (BOS) was launched, which soon ramped up to daily service. Can you recall that special day back in 2014 when JetBlue brought Aruba's one-millionth passenger for that year to Aruba?
In January 2017, JetBlue added service out of Fort Lauderdale (FLL), and in November 2020, the latest destination, Newark (EWR), was added.
Today's JetBlue network out of the northeast and the south of the USA into Aruba is a testament to JetBlue's continued confidence in the destination. JetBlue is AUA Airport's largest carrier now, with a market share of 27% of all departing flights out of Aruba. AUA Airport's partnership with JetBlue is invaluable and has grown strong and resilient, especially during the past trying times. Through the strong partnership built over the past 15 years, AUA Airport is confident that AUA Airport will continue to enjoy a fruitful relationship with JetBlue for many more years to come.
Happy 15th Blueversary JetBlue!
About AUA Airport
AUA Airport is one of the busiest airports in the Caribbean region, with 19 different airlines operating into Aruba contributing in processing over 2.5 million passengers per year (pre-covid) and providing air service to 20 destinations worldwide. AUA Airport is operationally solid where over 95% of all visitors are leisure guests: 83% from the United States & Canada, 6% from Latin America, 8% from Europe, and 3% from Dutch Caribbean, year to date, March 2021. AUA Airport attributes this to the island's stable economic and political climate, hospitable and multilingual population, and safe environment. AUA Airport undergoes continuous upgrades to maintain its position as one of the region's most innovative airports.
Learn more about what's happening at AUA Airport by visiting www.airportaruba.com and connect with AUA Airport on Twitter.com/Aruba_Airport, Facebook.com/ArubaAirport, Instagram.com/arubaairport/ and Linkedin.com/ArubaAirport.
About JetBlue Airways
JetBlue is New York's Hometown Airline®, and a leading carrier in Boston, Fort Lauderdale-Hollywood, Los Angeles, Orlando and San Juan. JetBlue carries customers across the U.S., Caribbean and Latin America, and between New York and London. For more information, visit jetblue.com.