Aruba Airport welcomes British Airways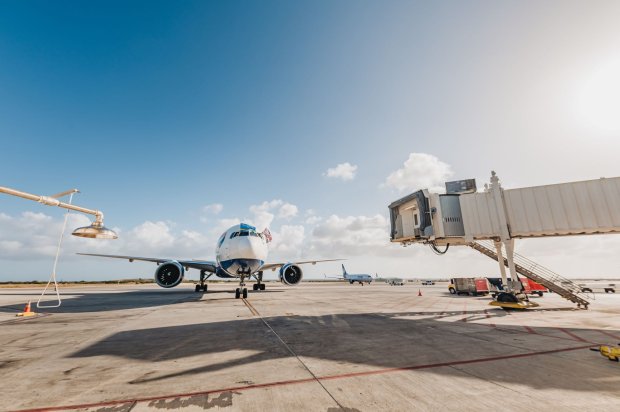 ORANJESTAD - After nearly 10 years of negotiations and preparations, Aruba Airport welcomed the first British Airways flight, which from now on flies to and from Aruba twice a week, on Thursdays and on Sundays.
With this achievement, the Aruba Airport continues to develop in the European continent, the Caribbean and continuing to diversify its markets that are being served from our island. British Airways will be flying to Aruba throughout the year on Thursdays and Sundays with a stop in Antigua. The LGW-AUA flight will be operated with a Boeing 777-200ER equipped with 336 seats, providing 32 Club seats, 52 World Traveler Plus seats, which is superior economy class, and 252 seats in the economy section; Departing from London Gatwick Airport.
Flight details
Flight BA2157 Departing London Gatwick 10:00 hrs – Landing in Antigua 13:35 hrs
Flight BA2157 Leaving Antigua 14:35 hrs – Landing in Aruba 16:30 hrs
Flight BA2156 Departing Aruba 18:30 hrs – Landing in Antigua 20:15 hrs
Flight BA2156 Departing Antigua 21:15 hrs– Landing London Gatwick 10:15 hrs
Currently the European market is served by KLM and TUIFly Holland, both operating from Amsterdam and also TUI Airways with seasonal service during the summer only from London Gatwick.
Aruba Airport Authority N.V.'s CEO Mr. Joost Meijs, indicated: "This is yet another achievement for the tourism industry of our island with a permanent service between London Gatwick Airport and Aruba. The introduction of this direct service is a goal we were working towards, and it is wonderful to see how the efforts to develop the service is paying off. In a very competitive sector, it is essential to have a direct service throughout the year and with easy connections from large markets. This is a team effort, and I am convinced that it will be a success!".
About London Gatwick Airport
London Gatwick Airport (LGW) is a large international airport located near Crawley, West Sussex, England; approximately 29 miles (47 km) in the southern part of central London. LGW handled 6.9 million passengers in 2021 and before Covid handled 46 million pounds. Gatwick was the first airport to have a mainline train connection to its own station, connecting to more airport stations in Europe. Also, it takes about 30 minutes to get to central London by train which leaves every 3 minutes.
About British Airways
British Airways is an airline that carries the flag of England. It was founded on August 25, 1919, that is, 103 years ago as Air Transport and Limited Travel (Aircraft Transport and Travel Limited) and on March 31, 1974 (48 years ago) they changed their name to British Airways. It was an airline that belonged to the Government and that they privatized in 1987.
British Airways is headquartered in Waterside, close to the main operating base at London Heathrow Airport. British Airways has a fleet of 257 aircraft that fly to 183 destinations; with its "frequent flyer" program known as Executive Club/Avios.
British Airways is part of the One World Alliance (World Alliance) along with 12 different airlines that are: Alaska Airlines, American Airlines, Cathay Pacific, Finnair, Iberia, Japan Airlines, Malaysia Airlines, Qantas, Qatar Airways, Royal Air Maroc, Royal Jordanian and SriLankan Airlines, not forgetting Fiji Airways as a Oneworld Connect partner.