Aruba Airport adds first 100% electric airport bus to its fleet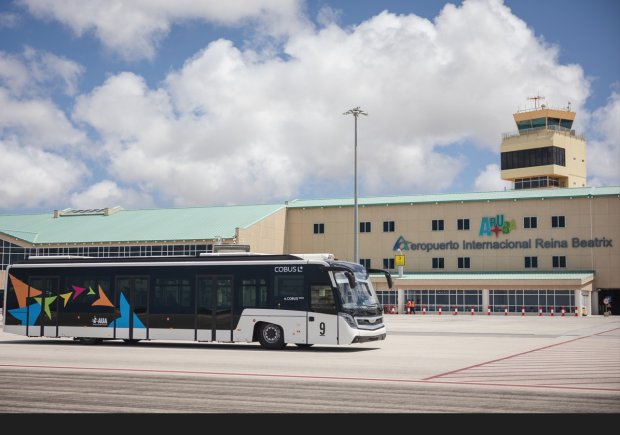 ORANJESTAD – Aruba Airport Authority N.V. (AAA) is excited to announce its new 100% electric airport bus as part of its continuous efforts in creating more sustainable airport operations.
Aruba Airport has the ambition of becoming one of the most sustainable, safe, and future proof airports of the Latin America and Caribbean region. As part of these efforts, the airport has recently added its first 100% electric airport bus, the E COBUS 3000, to its fleet.
The E COBUS 3000, produced by COBUS Industries, has the capacity the carry up to 110 passengers and is the first of its kind in the Caribbean region.
The electric bus, powered by lithium titanate batteries, allows for smooth and efficient operations due to its energy management and flexibility. In addition, the bus delivers completely CO2-free passenger service and noise reduction, further guaranteeing optimal airport operation.
The addition of the E COBUS 3000 to Aruba Airport's fleet is a major milestone in the airport's sustainable strategy to reduce carbon emissions and its carbon footprint for the airport and entire island.
Aruba Airport is thrilled to be leading the way in sustainable transportation for its passengers and community.