Copenhagen is open for Asian business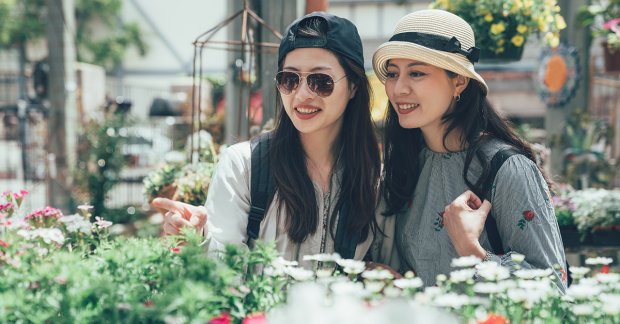 As Copenhagen Airport predicts a 5-10% growth in Chinese passenger numbers from 2020, Copenhagen is ready to welcome tourists from their first steps off the plane.
Chinese tourism is on the rise, and Copenhagen is an increasingly popular destination for Chinese tourists. According to Visit Denmark, Chinese tourists spent more than 260,000 bed nights in Denmark between August 2018 - July 2019, up 16.1% from the same period the year previously. It's big business – Chinese tourists spent $277.3bn overseas in 2018, up from around $10bn in 2000. Considering everything from language barriers to cultural differences, Copenhagen's tourist authorities are dedicated to giving tourists a warm welcome to the wonderful city.
Service straight off the plane
Copenhagen Airport's app is tailor-made for Chinese visitors. It works as an interactive guide around the airport and can translate signs in just a point and click of the camera. The airport's social media profiles on WeChat and Dianping provide shopping guides, vouchers and a VIP shopping card, and travellers can pay via Alipay and Union Pay. Visit Copenhagen has created a dedicated Chinese website to help visitors plan their trip, with practical guides for visa requirements and dressing for the Danish weather, through to sightseeing recommendations and themed tours. Visit Copenhagen also connects with tourists on Youku and Weibo where it posts daily updates, racking up more than 145,000 followers.
Keen shoppers in retail heaven
Chinese tourists love shopping and often plan well in advance – 64% of visitors surveyed by Chinavia had made a shopping itinerary. Chinavia is a tourism initiative to welcome and attract Chinese tourists to Scandinavia, with Wonderful Copenhagen as lead partner. The project has created kits for retail, hotels, attractions, and restaurants to help them better service Chinese tourists. These contain practical resources such as translated maps and common phrases and cultural advice, from China's gifting culture to lucky numbers and colours. Copenhagen has earnt a reputation as a 'shopping heaven', with its designer brands and tax-free incentives. Before they head home with their new purchases, travellers from outside the EU can get their tax refund at the airport through Global Blue Denmark and Tax Free Worldwide.
A gateway to Scandinavia
71% of Chinese visitors surveyed by Chinavia were touring Scandinavia, and Copenhagen is well-placed to be their hub for travel. Neighbouring Sweden and Norway are just a short trip away by road, boat, train, or short-haul flight. Across Denmark, Kronborg Castle in Helsingør and Odense, the birthplace of Hans Christian Andersen, are popular destinations for Chinese tourists. Meanwhile, younger Chinese tourists are increasingly interested in exploring off the beaten track. Vejle is offering 'China Ready' courses to local businesses, while Aalborg is building tailor-made packages with its travel partners to attract visitors to some of Denmark's hidden gems.
Growing passenger numbers from China

In the last year alone, Copenhagen Airport has seen new routes open between Beijing, Hong Kong, and Chengdu, in addition to existing routes with Beijing and Shanghai Pudong. ASKs to China totalled 1.131 million in 2013; this year that figure will be 1.877 million. This trend shows no sign of stopping, with a predicted 5-10% growth in Chinese passengers in 2020 and onwards.
"Over the past years, we have seen an increasing interest from Chinese tourists to visit Denmark and Copenhagen. In the airport we have focused on developing the access to Denmark from China with new routes and airlines to the benefit of Chinese travellers. We hope to continue this development in the future with more direct routes between China and Denmark," says Annika Liljenberg, Senior Route Development Manager, Asia.