Copenhagen Airport focuses on invisible disabilities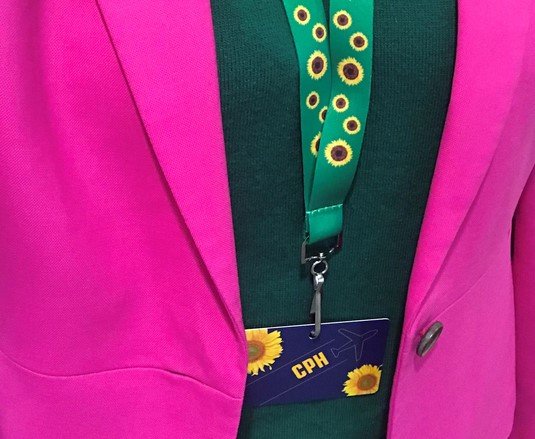 People with invisible disabilities visiting Copenhagen Airport can now take a sunflower cord around their necks so that employees at the airport can see that they need extra focus.
Having to go through, for example, check-in, security check-in and boarding of the aircraft can be a stressful experience. For people with invisible disabilities, such as Autism, Alzheimer's, brain damage, ADHD, or dyslexia, the trip through an airport can provide extra palpitations.

Now people with invisible disabilities can wear a green key string with sunflowers on their necks, so employees at Copenhagen Airport can see that they may need extra time or patience. Through instructional videos, employees are introduced to various diagnoses and disabilities, so they are better equipped to handle the diversity of airport visitors.
"The sunflower cord ensures that people with invisible disabilities and diagnoses do not have to explain or justify their needs in situations where anxiety, stress, confusion or need for help is pressing. Our employees across the many companies at the airport have received training videos basic knowledge of what they should and should not do when they meet someone with an invisible disability, "says service excellence director at Copenhagen Airport, Stine Marsal.
In addition to being able to follow a special track in the security check, if you use the cord to approach the employee at the entrance, Stine Marsal points out that the sunflower cord does not offer any special benefits other than that it is a signal to employees across the airport about, that here is someone who may need extra consideration, time, patience or help.

It is optional if you want to wear the sunflower cord, which is free of charge and can be collected at the information and at most check-in counters at the airport.
Invites more people to introduce sunflower
cord The sunflower cord is new in Denmark, but is already being used in several places in the world. Especially in England, where the idea originated, it is very successful in using it in airports, supermarkets and similar places.

At Danish Disability Organizations, you are excited about the sunflower cord and hope that more places will take it.

"It can calm the stomach of travelers with invisible disabilities and help them well through an often hectic airport. I hope the initiative will be widespread in many places around the world, such as theme parks, department stores or other public transportation," says chairman of the Danish Disability Organizations, Thorkild Olesen.

He shares this wish with Copenhagen Airport, which hopes that other companies see the sunflower cord as an opportunity to help a large customer group in a concrete and tangible way.

Educating about 25,000 people
Copenhagen Airport has received really positive feedback from some of the passengers who have tried the trip through the airport with the sunflower cord. Of course, the airport is really happy, partly because it has taken some training to get the approximately 25,000 people distributed to about 1,250 companies who have their daily operations at the airport. But that's not the only benefit to the company:

"We have also experienced that it has had an incredibly positive effect internally between us colleagues. People with invisible disabilities and diagnoses are not only our customers. It is also us. It is our families and our closest people. The initiative with the sunflower string has opened for a talk between colleagues about the challenges we ourselves have with children who have diagnoses, own challenges, parents with dementia, etc. So the initiative has made us more open to each other as well. It's been all worth it, and we hope we can help inspire others to introduce the sunflower cord so that we can help invisibly disabled people be seen and understood, "says Stine Marsal.

If you as a company would like to know more about Copenhagen Airport's experience with the sunflower cord, you are very welcome to grab Stine Marsal, who also wants to share the teaching material that the airport has made.

Service Excellence Director, Stine Marsal / 5377 4345 / stine.marsal@cph.dk