CPH traffic figures: Quiet start to 2020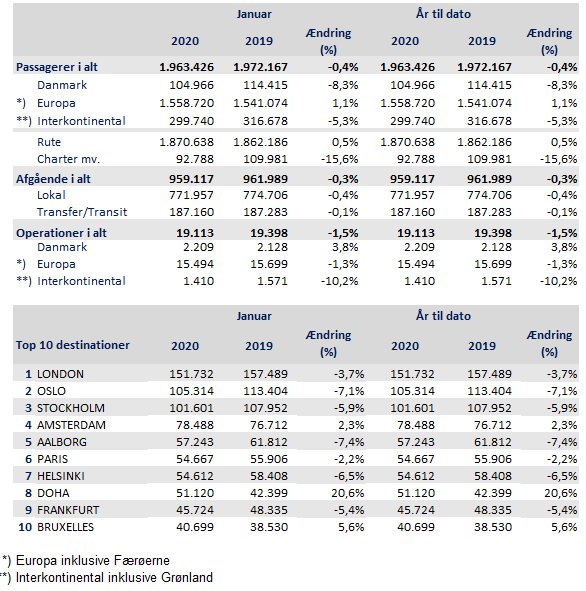 Global aviation is under pressure with economic uncertainty, Corona virus, Brexit and climate change. In the first month of the year, Copenhagen Airport recorded a slight decrease in the number of passengers, corresponding to 0.4 per cent less than last January.
With 1,963,426 travelers through the terminals, Copenhagen Airport experienced a relatively quiet start to 2020. This was a total of 8,741 fewer than in January last year, which represents a slight decrease of 0.4 percent.
There are several explanations for the slowdown in growth, emphasizes CEO Thomas Woldbye.
"Aviation is under global pressure and 2020 has started with a certain amount of financial uncertainty due to Corona virus, trade war, Brexit and the crucial climate change. At the same time, our second largest customer Norwegian is well underway to implement the company's new strategy, where is focused on profitability rather than growth, "says Thomas Woldbye.
During the last weeks of January, the effect of Corona virus could also be felt at Copenhagen Airport. The number of travelers on the routes to China fell by more than 3,000 compared to January last year.
At the end of the month, SAS decided to stop the company's direct flights to Shanghai and Beijing for the time being until March. Sichuan Airlines has temporarily halted most of its flights to Chengdu and Air China has canceled part of its three weekly direct flights to Beijing from February. From 1-28. March, Air China stops all flights to Denmark.
"Traffic between China and Denmark will be significantly less in February. We also expect that it will affect traffic to the rest of Asia to some extent. This is a situation that is currently evolving from day to day," says Thomas Woldbye .
London still top - Doha grows
London remains the absolute busiest destination from Copenhagen with up to 23 daily departures on weekdays. Despite Brexit on 1 February when the UK left the EU, London traffic is expected to be "business as usual" by the end of the year.
"The EU and the UK have a provisional agreement to treat UK travelers as other EU citizens until the end of the year. Hopefully, a good, permanent agreement on air traffic between the UK and EU countries will be negotiated by then," says Thomas Woldbye .
When it comes to long routes out of Europe, there is a 5.3 percent drop in January - mainly because Norwegian no longer flies to the US from CPH and instead focuses on routes to Europe.
As last year, January's high jump is also Doha, the hub of Qatar Airways' routes to Asia and Africa. Doha has risen to number 8 on the list, with growth of 20.6 percent in the first month of the year to a total of 51,120 passengers.