Quarterly accounts: Corona virus has put aviation on hold and CPH has fallen asleep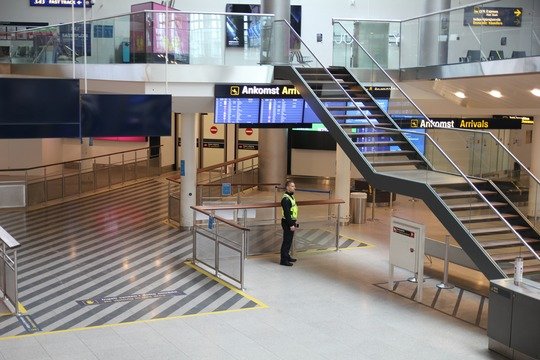 The Corona pandemic has evolved into a global economic crisis that has dramatically affected aviation. Many airlines and companies around the aviation are put into regular survival fighting. Before the pandemic, there were 83,000 travelers daily at Copenhagen Airport. Today there are fewer than 900. The crisis of aviation is serious for Denmark, which depends on international accessibility, tourism and trade with the rest of the world.
As the corona virus spread from China and land borders around the world were closed in February and March, air traffic was seriously halted in the last weeks of the quarter.
"Usually, there are 83,000 travelers a day. In the last week of March, there were an average of 1,600. In April it dropped to fewer than 900 daily. 143 of the 146 stores and restaurants are closed More than 90 aircraft are parked at the airport for a long time. We have decided that parking is free, to reduce the cost of airlines, says CEO Thomas Woldbye.
"In other words - almost all of our revenue and business base has disappeared in a matter of weeks," he says.
The slowdown in March has been so steep that despite a couple of almost normal months in January and February, landing on a historically poor quarterly result. Profit before tax amounts to DKK 79.4 million. (corrected for special conditions). This is a reduction of 69.3% compared to last year. Revenue was DKK 764.3 million. This is 21.4% less than last year
"With April and May being virtually devoid of air traffic and great uncertainty as to when the world will open again, it is not possible to state expectations for the near future. But 2020 will be a challenging and difficult year for aviation. then CPH is ready to push the economy and the airport as the world begins to open again, "emphasizes Thomas Woldbye.
Costs and investments reduced by DKK billion for the rest of the year
CPH is rolling out a larger plan focusing on securing liquidity by reducing operating costs and postponing planned investments for up to DKK 1 billion for the rest of the year.
"As a critical infrastructure, it is our job to be operational, regardless of the fact that this is currently at large, daily losses. Substantial credit facilities have therefore been established to secure CPH's operations in the coming period," says Thomas Woldbye.
In addition, the Danish state's financial support schemes. From the second quarter, CPH will be compensated for approximately 1/3 of the ongoing labor costs through the wage compensation scheme. This means that CPH has so far avoided dismissing employees. Instead, 2,200 out of 2,600 employees are repatriated in a rotation scheme.
"We do everything we can to avoid redundancies. But, of course, it depends on the duration and depth of the crisis as well as the extent of state support," says Thomas Woldbye.
"We see this in our communities, where Tårnby is already one of the municipalities in the country most affected by increased unemployment. But no one can give guarantees, and if the crisis permanently changes the aviation, we are forced to deal with it as a company. Until then, we are struggling to get through and save everything we can - including our position as CEO of Europe, "he says.
In terms of liquidity, the airport is well equipped for the coming period. In May, CPH entered into a two-year credit facility totaling DKK 6bn. with a group of banks.
The new facility is a combination of a two-year loan of DKK 2 billion. and a two-year credit facility of DKK 4 billion. At the same time, CPH has entered into an exemption agreement with existing lenders, exempting CPH from certain loan requirements up to and including the first quarter 2021. The new credit facility and exemption agreement ensures that CPH will be able to continue to meet its financial and investment obligations.
CPH creates jobs and welfare
The airport houses around 1,000 companies and airlines, employing approximately 22,000 employees. With everything from handling aircraft, luggage, passengers and catering to eg. construction, maintenance and service in shops and restaurants.
Many of the companies have had to lay off employees. Most recently, SAS has announced redundancies of up to 1,700 employees in Denmark and the airline Norwegian announced April 20 that it is saying goodbye to more than 600 Danish pilots and cabin crew.
"These are incredibly sad messages that clearly show how serious the crisis is in the entire aviation industry. Over the years we have worked closely with both SAS and Norwegian to develop routes. Before the crisis hit, the two companies accounted for 51% of traffic, "says Thomas Woldbye.
According to figures from Copenhagen Economics, the aviation industry contributes to creating employment and prosperity in Denmark for a value of up to NOK 100 billion - of which NOK 30 billion is solely through Copenhagen Airport.
"It is our foremost societal mission to tie Denmark together with the rest of the world. It is absolutely vital to our prosperity that Denmark can trade with the rest of the world and be available. All that we can risk to control," says Thomas Woldbye.
The green transition is not forgotten
Despite the crisis, Copenhagen Airport will continue to seek cooperation with partners, airlines, the public sector, NGOs and others to ensure that future aviation becomes sustainable and that overall Danish aviation is climate neutral in 2050.
"For the time being, we are also sticking to the airport's climate strategy and the goals we have set for the operation of CPH in 2030 to be completely CO2 neutral and emission-free. The pace of the necessary green transition will depend on how we get through the crisis. the more economic muscle we have, the greater strength we can put behind the sustainable aviation transition as the world reopens at some point in trade, travel and air traffic, "says Thomas Woldbye.