Copenhagen Airport (CPH) provides power for the sustainable transition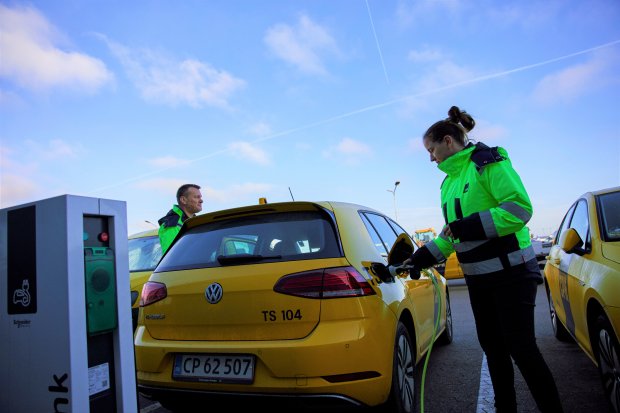 New agreement between CPH and the Jutland energy group EWII on the installation of almost 1,350 new charging stations puts a thick line under the will to make the country's largest airport sustainable. It will be the largest number of charging points so far at a single address in Denmark. 
In 2019, CPH had an average of 83,000 passengers through the terminals daily, many of them utilizing one of the more than 14,000 parking spaces at the airport. Some of them are already equipped with electric charging stations, but developments show that the need will grow over the coming years.
CPH is now meeting this in close collaboration with EWII, which is setting up 1,350 charging stations at the airport over the next 10 years:
"CPH prioritises sustainable development. We are already in the process of developing the sustainable airport of the future in the EU project ALIGHT, and with the installation of several new charging points, we meet the needs of both passengers and employees at CPH, but we also support the total share of the airport's vehicles where approx. 40% is already powered by electricity ", says commercial director Peter Krogsgaard.
"And that is exactly the need we must of course meet in CPH", points out Peter Krogsgaard.
It is the energy group EWII that sets up the charging stations in CPH in close collaboration with ZAPP Mobility, ABB and Monta. The task will be to ensure a step-by-step construction and expansion of the electric charging structure in CPH, which will be a technically difficult challenge - but the mutual trust is great:
"CPH is a complex company, and charging stations must be set up on both sides of the fence, so that both the operation of the airport and the passenger-oriented areas benefit from the solutions. Therefore, we are very pleased to have landed the agreement with EWII, because we get a strong partner who also works with both heat, water, electricity and fiber, and therefore has both knowledge and know-how in a number of areas, which are both and will be relevant to us in the sustainable development of CPH ", says Peter Krogsgaard and is supplemented by EWII's CEO Lars Bonderup Bjørn:
At EWII, we are very happy and proud to be involved in the development of the green airport of the future. Copenhagen Airport is taking an important and courageous step with the establishment of a well-developed charging infrastructure that both invites guests to drive green and emphasizes the airport's own ambition for green conversion. We see it as our most important task to carry the green transition through ".
FACTS:
The agreement between CPH and EWII means that a total of 1,350 electric charging stations will be set up in CPH over the next 10 years. Of these, 1,320 are AC chargers, which deliver 22 kWt, while the remaining 30 chargers are lightning chargers, which deliver a minimum of 180 kWt. In 2022, the plan is to set up 180 AC chargers and 15 lightning chargers, which will be located so that the many taxis that carry passengers to and from the airport will also be able to benefit from the infrastructure.
According to De Danske Bilimportører, a total of 185,328 new passenger cars were sold in 2021, of which almost 65,000 were rechargeable cars. At the end of 2021, almost 2,781,855 passenger cars were registered in Denmark, of which rechargeable cars accounted for 144,498 vehicles, so the need is present.
In the EU project ALIGHT, CPH is a lighthouse airport, where the sustainable solutions of the future will be developed in close collaboration with 15 European partners. The project focuses both on establishing the infrastructure for sustainable fuels as well as developing solutions to implement sustainable energy sources in the operation of the airport. Read more at: www.alight-aviation.eu