CAP's new Chairman of the Board and CEO had successful visits with ministers Cooper and Cijntje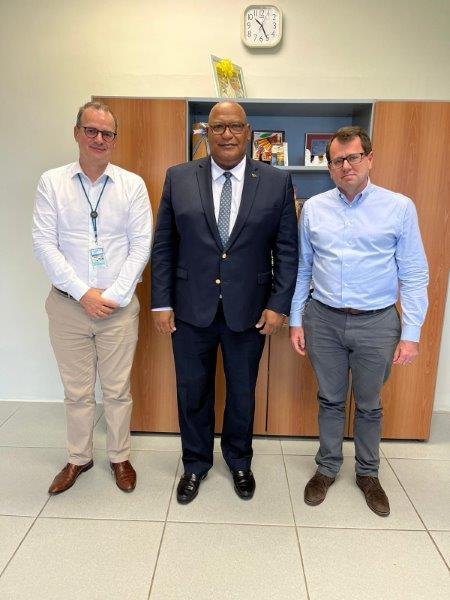 Chairman of the Board wants to contribute more to Curaçao's airport & community.
Willemstad, September 27, 2022 ̶ Curaçao Airport Partners' new Chairman of the Board, Mr. Fábio Russo Corrêa, who's also the CEO of CCR Aeroportos, CAP's majority shareholder, together with new CEO, Mr. Jonny Andersen, recently visited several stakeholders, among which the Minister of Traffic, Transport and Urban Planning, Mr. Charles Cooper and Minister of Economic Development, Mr. Ruisandro Cijntje. The visits served to introduce the new Chairman of the Board, who was visiting Curaçao from Brazil.
During the meetings, these CAP leaders discussed the company's plans to enter a new era of development and growth, as they prepare to provide a new direction to the business. They indicated that the pandemic, which caused CAP to go through a very difficult period, served to provide a new perspective and determination to introduce needed changes and implement innovative ideas and initiatives for the airport to be better prepared for the future.
Therefore, CAP has started a strategic process of 100 days to determine a new course for the company and give guidance to move towards its goals for the next five years. This strategy is planned to be finalized by mid-November 2022 and presented to the Board of Directors for approval. Upon completion of this process, the Chairman of the Board intends to travel to Curaçao again in order to present the new strategy, together with Mr. Andersen, to the ministers of Traffic, Transport and Urban Planning and Economic Development.
To support the new strategy, the Board is planning to become much more involved with CAP and contribute increasingly more to the Curaçao airport and the community of Curaçao. The intention is to go above and beyond what is required according to the DOMA license agreement to operate the airport. The Board wants to contribute for instance to make the airport more welcoming, support air traffic development including an increase in air freight (cargo), and also focus on electric aviation with an eye on sustainability and future growth. There are also plans to implement an international marketing campaign in Brazil, in order to support an island wide strengthening of tourism.
This means that the Board is seeking a more active role in the development of the airport, thereby functioning as a partner to CAP. It also signifies the start of an exciting new era for the Curaçao airport, in which we look forward to leading the way towards further advancement and a bright future ahead.