Clean As We Walk at CUR a great success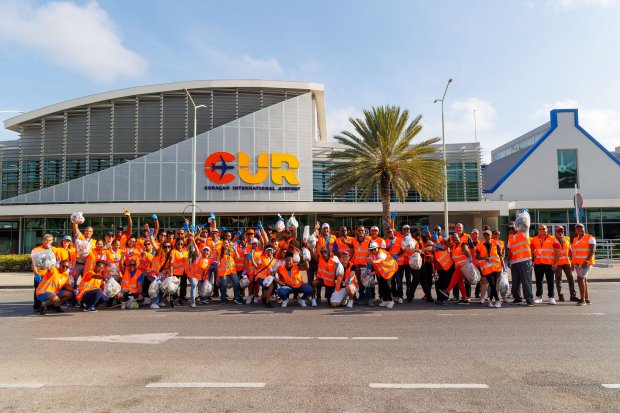 Airport commemorates World Clean Up Day through customer experience driven initiative
Willemstad September 18, 2023 – As over 195 countries and territories including Curaçao stood still on the impact of waste pollution globally past Saturday September 16, on World Clean Up Day, CUR | Curaçao International Airport also joined this awareness day driven by clean-up activities through its own Clean As We Walk event.
While World Clean Up Day provided the opportunity to individuals, groups, companies, and other organizations to take part in cleaning different areas of the island, the airport community joined the activities and efforts through the clean-up of their parking area which is intensively used daily.
"Our employees looked forward to getting out there and contributing to multiple causes while working together to achieve a common goal. Not only did they roll up their sleeves and helped to clean and contribute to the environment, but they also contributed to the safety and an enhanced overall experience at our airport for all travellers, visitors and personnel while doing so. This is a remarkable demonstration of commitment and care. It makes me proud to be part of such an outstanding team" said Mr. Jonny Andersen, CEO of Curacao Airport Partners. As the team gathered bright and early at 7am on this day to kick-off the event, they were excited to make use of the opportunity to bond while making a positive impact. They collected a considerable number of items such as plastic bottles, cups, cutlery, glass, aluminium cans, wrapping items and more. While the team felt proud to have freed the area of so much waste, they were also concerned about the littering behaviour and mentality which needs to change urgently.
"This is just a small part of all the efforts we put into creating awareness within our community for everyone working here and those going through our airport, while we continue to steadily expand these efforts to go beyond our airport premises. A clean surrounding is of extreme importance for the experience you have at a specific location. Therefore, to us, providing our travellers, visitors, and the entire airport community with an exceptional experience through clean facilities is one of our main goals. We will continue with initiatives and awareness efforts to support this." Mr. Andersen continued.
This first edition of the Clean As We Walk event served as the prelude of the airport's upcoming Customer Experience Awareness Day (CX Day) taking place on September 27, 2023, being on a remarkable day for the industry, World Tourism Day. The entire airport community will be engaged during an informative and transformative day providing all community stakeholders with additional knowledge and tools on this highly important topic for the airport, being the service to be provided by all who play a role at our airport.
CUR | Curaçao International Airport invites everyone to connect via the airport's social media channels IG and Facebook: curacaointernationalairport, LinkedIn: Curacao Airport Partners and website https://curacao-airport.com/ to continuously receive the latest news, updates and more on all ongoing and future projects.