PRAGUE AIRPORT AWARDED IN SKYTRAX 2008 SURVEY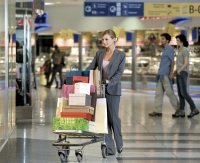 PRAGUE AIRPORT RANKED 2nd IN THE CENTRAL AND EASTERN EUROPE REGIONAL CATEGORY IN WORLD AIRPORT AWARDS 2008, ORGANIZED BY SKYTRAX.
For the second year in a row, Prague Airport gained an award of high prestige in the world's largest survey of passenger satisfaction where more than 8 million passengers rated the quality of services and standards at 165 airports across the world. Last year's winning of Prague Airport in the same category was not confirmed only due to the amendment of the geographical split of the region - Vienna International Airport was reclassified into Central and Eastern Europe for this year. On the whole, Prague Airport significantly improved its rank in the global rating by 12 positions, moving to 42nd position (54th in 2007). Criteria that enjoyed the best improvement covered Business centre facilities, ATM locations and credit card acceptance, taxi availability and prices, queuing times and staff attitude at security check and passport control. The final passenger judging covers over 40 categories of product and service quality. The highest satisfaction ratings of Prague Airport include: easy orientation and transit through the airport, business and entertainment facilities, services for disabled passengers, choice of shops and variety of restaurants as well as security procedures and staff friendliness.