Great interest in Stockholm Arlanda's diverse job opportunities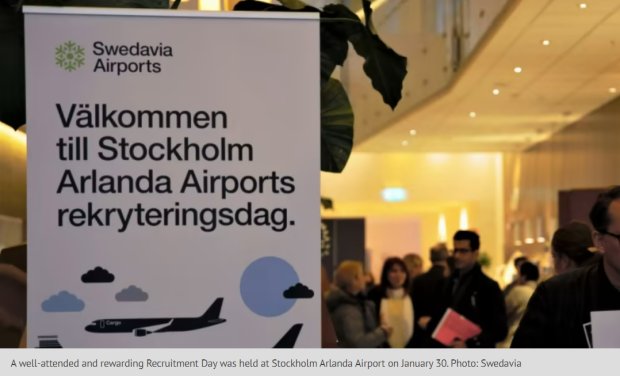 The airport is expanding as air traffic increases and airlines invest in routes.
On January 30, a well-attended Recruitment Day was held at Stockholm Arlanda Airport, which involved more than 30 of the companies operating at the airport and some 4,000 visitors. The airport is expanding as air traffic increases and airlines invest in routes. Several hundred people will be hired for the summer alone, and altogether thousands of job openings will be available. Swedavia's Recruitment Day enabled many new encounters and recruitment opportunities. To sum up, participating companies and visitors both have a very positive outlook for the future.
"Naturally, we are really pleased that there is great interest in working at Stockholm Arlanda Airport and in the many different job opportunities the airport offers. It gives people a positive feeling about the future and the developments that Arlanda is facing over the next few years, which include a new security checkpoint and a brand-new marketplace in Terminal 5. Everyone who works at the airport is equally important in making it work as a whole and in giving our passengers a positive experience," says Jonas Abrahamsson, Swedavia's president and CEO.
In order to meet the great recruitment need resulting from the increase in air traffic and the airport's expansion, major recruitment efforts are now under way among the companies operating at the airport. Along with Swedavia's employees, who ensure and coordinate the airport's aviation operations and services, staff in security screening, border control, baggage handling, logistics and ground handling services are needed for the airport to function. Staff in restaurants, shops, and cleaning and other services as well as train operators and bus and taxi drivers are also essential in giving passengers a positive experience of the airport.
Already today, Stockholm Arlanda Airport is one of Sweden's biggest workplaces, with some 15,000 employees. The airport also indirectly creates 1,000 jobs per million passengers in related services.
New security checkpoint to open
Avarn Security staffs the security checkpoints at Arlanda and since last year has had an intensive recruitment period, with nearly 450 new employees. The security services company is now further accelerating this work in time for the summer season, filling several hundred new positions at Arlanda.
"We have a bright outlook for the future and are active in our recruitment work. It is also a different situation today than right after the pandemic. That applies to the labour market and to government agency lead-times for the requisite background checks," says Lena Johansson, Regional Manager East at Avarn Security.
Alongside the work to hire new staff, training is under way prior to the opening of the new security checkpoint in Terminal 5, which will be placed in service this summer.
"This involves a new way of working because there are both new premises and a new x-ray system at the new checkpoint. We have collaborated with Swedavia in the work to design the best layout for the new expanded space and at the same time have developed our new processes and work procedures," notes Yazdan Gilani, department head and security manager for aviation at Avarn Security.
Other companies that already operate at Arlanda but are expanding operations include ground handling companies such as Aviator Airport Services, Menzies Aviation and the airlines' own ground handling companies. Aviator will expand substantially during the spring and intends to fill some 200 jobs at Arlanda.
The Swedish border police are also increasing their staff at Arlanda and across the Stockholm region.
"As a border controller, you are a civil servant and thus do not need any police training. In addition to working at Arlanda's border control, where we have our biggest operations in the Stockholm region, you can be stationed to reenforce staffing at one of Stockholm's ports or at Bromma Stockholm Airport," says Samer Shtaye, head of recruitment for the Stockholm Border Police at Arlanda.
The Stockholm Border Police are currently looking to hire 30 summer employees and have already announced openings. There is also a need to hire some 30-40 full-time employees going forward, so the regular workforce will increase significantly to meet the increased need for border police.
Airline investments
Airlines are ramping up after the pandemic and expanding air traffic by setting up new routes and are therefore in great need of new staff, mainly at Arlanda. SAS's ground handling company, SGH, is looking for more than 100 new employees to work as loaders, in cargo or as traffic assistants at check-in and the gate.
Other Recruitment Day participants were Braathens Regional Airlines (BRA) and the Estonian-based Nordic Aviation Group and its subsidiary Xfly, which fly from Bromma Stockholm Airport or Stockholm Arlanda Airport to various domestic and international destinations. Both BRA and Xfly are currently looking for more pilots and cabin crew. BRA is strengthening the cabin crew with 35 people and Nordic Aviation Group and Xfly are looking for a total of at least 25 people for Arlanda.
"Arlanda has been Xfly's base over the past five years and is an airport that promotes investments and is open to innovation and new developments," says Jan Palmér, CEO of Xfly and Nordic Aviation Group.
Jan Palmér predicts that air traffic will give European markets an upside surprise this year.
"The Recruitment Day arranged by Swedavia has been an excellent opportunity to attract skilled people interested in starting a career in aviation. The sector is experiencing strong growth, and there is clearly a willingness to invest," adds Jan Palmér.