Thank you for nominating us!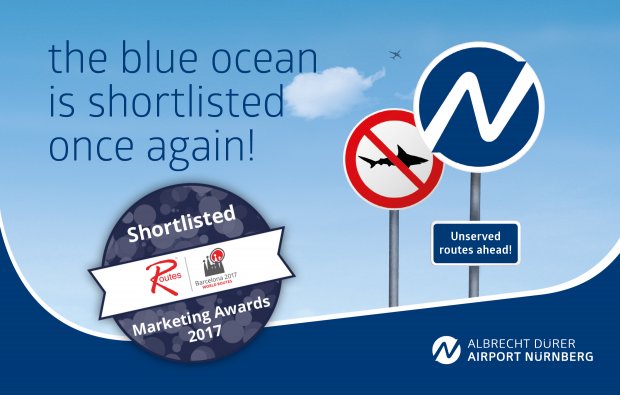 Nuremberg Airport has been nominated in the under 4 million category at the World Routes Marketing Award 2017 for the first time
"Thanks to all of you who've voted for us," says Christian Kaeser, Head of Aviation Marketing & Business Development, "it's a special honor for us to be nominated for the World Routes Marketing Awards in Barcelona for the first time."
Over the past two years, Nuremberg Airport has significantly changed its approach to airline marketing. The adoption of developing new markets, a redefined role for the marketing team in order to improve contact with airlines, and innovative execution of both B2B measures and B2C measures taken in cooperation with these partners were defined as the keys to success.
The cornerstone of this success is our radical "Blue Ocean" strategy, which we launched with the slogan "Avoid the shark tank and make use of your blue ocean opportunities!" exactly two years ago at the World Routes Conference in Durban in September 2015.
Most importantly, these measures have achieved what any marketing team should ultimately be judged by: concrete results. Firstly, there is solid evidence that both our partners and our end-customers are satisfied. Secondly, the airport is achieving the growth we targeted:
+21% passenger growth in 2017 (predicted)
All-time high of 4.2 million local passengers for 2017 in sight
Nuremberg Airport has been nominated in the under 4 million category at the World Routes Marketing Award 2017 for the first time
5 new airlines in 2017 | 3 new aircraft based at NUE | 18 new destinations in 2017