Eurowings opens its twelfth base in Nuremberg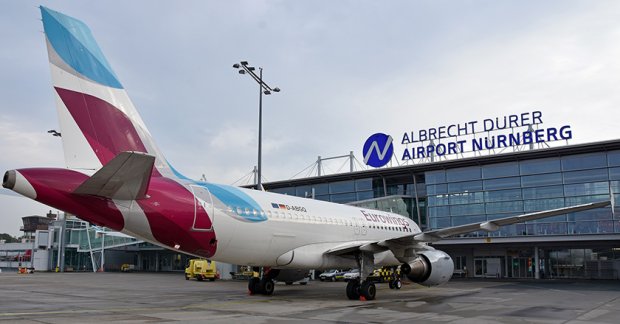 Eurowings is making Nuremberg Airport it's twelfth base. The Airline will base one aircraft in Nuremberg from the end of March and serve the holiday destinations of Mallorca, Heraklion, Catania and Olbia. The frequency of flights on the existing Berlin Tegel - Nuremberg route will also be extended.
The new Nuremberg routes will be served by a Boeing 737-800, which Eurowings has rented from TUI fly. The aircraft will depart for Mallorca eight times a week. Hence, Eurowings will serve up to 15 weekly flights between Mallorca and Nuremberg in summer 2018.
Catania and Olbia on the Italian islands of Sicily and Sardinia twice a week, and Heraklion on the Greek island of Crete every Monday and Friday.
The opening of a base in Nuremberg is another milestone for Eurowings in a phase of rapid growth. "After having transported more than 30 million passengers last year, Eurowings has clearly become Europe's third biggest low-cost airline", says Eurowings CEO Oliver Wagner. "This year we are consolidating this status with further growth in Germany and Austria. We already offer a large number of routes from Munich, and the connections from Nuremberg now complete our coverage of Southern Germany", he continues. "We expect a very profitable start, mainly due to the flights to Mallorca and three other attractive holiday islands."
By basing an aircraft at Nuremberg, Eurowings is also contributing to the maintenance of jobs in aviation, a key industry in the region. Around 30 flight staff will work directly for Eurowings, while many others will be employed in related fields at Nuremberg Airport.
"The new Eurowings routes benefit both business and individual travellers throughout the Nuremberg region and complement the existing range of domestic flights", says Dr Michael Hupe, Managing Director of Nuremberg Airport. "Eurowings is the fourth airline to base an aircraft in Nuremberg."
Christian Käser, Head of Aviation Marketing & Business Development at Nuremberg Airport adds "The announcement of the Eurowings base is a further signal that Northern Bavaria is an attractive market for airlines. It´s great to see more and more carriers making use of their opportunities in our blue ocean".