NUEWS! Nine new routes, two new airlines and one new base in 2018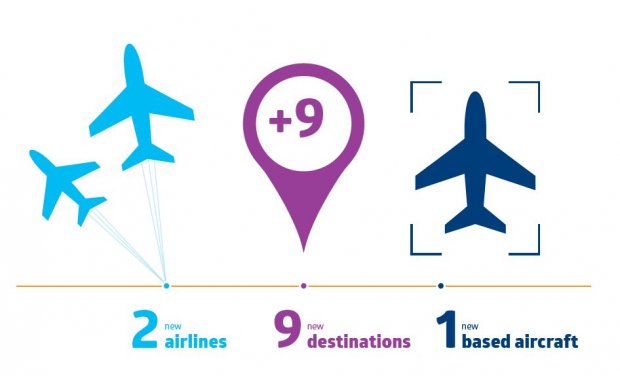 Our blue ocean has a lot to offer this coming summer season. After a successful year with a growth of 20%, our commitment to sustainable growth hasn't stopped! With 68 nonstop destinations and counting we are on course to achieve an all-time high in 2018.
We are happy to announce eight new nonstop destinations from NUE this summer and Marrakesh later in October this year. These include several summer destinations, a further Star Alliance hub and a brand new long-haul destination.
For the very first time, we will be offering flights to the long-haul destination of Dubai. The tour operator FTI is behind this new development. From May onwards, the Star Alliance member LOT Polish Airlines will be flying to its hub airport of Warsaw twice daily. Passengers can reach up to 70 destinations in LOT's route network via WAW.
In other news, we are proud to announce that Europe's fastest growing airline, Eurowings, has based its first aircraft in Nuremberg. With this new base come new destinations, including Catania and Olbia, as well as more frequent flights to Palma de Mallorca.
Other new destinations this summer include Bodrum (Tailwind Airlines) and Djerba (Nouvelair), while NUE's number one charter airline, Germania, will be flying to Bastia and Monastir
Our blue ocean continues to offer a large number of opportunities, low competition and unserved destinations. This in turn means sustainable development and profitable growth for you, our airline partners.