Setting records in 2018: Nuremberg Airport breaks the 4.4 million passenger mark for the first time ever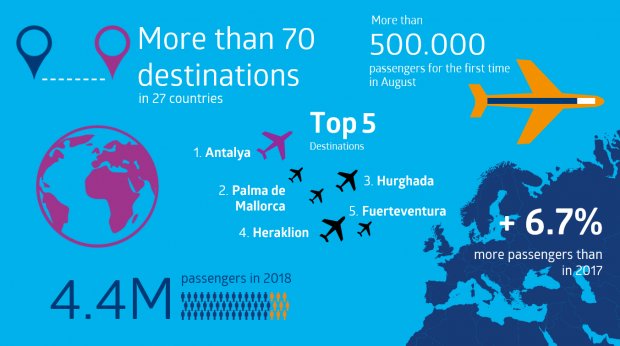 Never before in its 64-year history has Nuremberg Airport recorded so many passengers: 4.467 million passengers used Germany's most popular airport (Business Traveller Award 2008 - 2018) for business and holiday trips in 2018. The 6.7 percent increase on the previous year is due mainly to strong growth in the tourism sector. The busiest month was August, with over 500,000 passengers for the first time ever. The most successful day was 19 August 2018, with 20,777 passengers.
Passengers flew from Nuremberg to 27 different countries in 2018. The most popular destinations last year were Antalya, Palma de Mallorca, Hurghada, Heraklion and Fuerteventura. There was major growth in Eastern Europe - particularly in Ukraine, Lithuania and Poland. The most popular country was Spain, with the Balearic and Canary Islands proving key destinations. The airline with the largest share of the tourism sector was Germania, which has grown significantly since the loss of airberlin.
Scheduled traffic fell by 0.9 percent. The main reason for this slight decrease was the loss of airberlin as a result of its insolvency. The effect was most noticeable on routes within Germany, but was largely compensated for by scheduled traffic within Europe operated by Ryanair, Eurowings, Air France / KLM, Turkish Airlines and LOT. LOT has improved the route network by connecting Nuremberg and the hub destination of Warsaw with two flights daily since May 2018.
"The foundation for this record result is an attractive range of European city connections and tourist destinations", says Dr Michael Hupe, Managing Director of Nuremberg Airport. "What we offer has been received well by the market and our route network has succeeded in bringing a large number of international visitors to Nuremberg and the surrounding area", he continues. "We see this development as an incentive to improve what we offer the people and economy of the Nuremberg metropolitan region." In 2019, Dr Hupe expects moderate growth, driven by factors including new, attractive destinations in Italy (new: Crotone, Pisa and Naples), Croatia (new: Split and Zadar) and other countries .
Further media enquiries please contact: