Trade fairs: What's on at the NürnbergMesse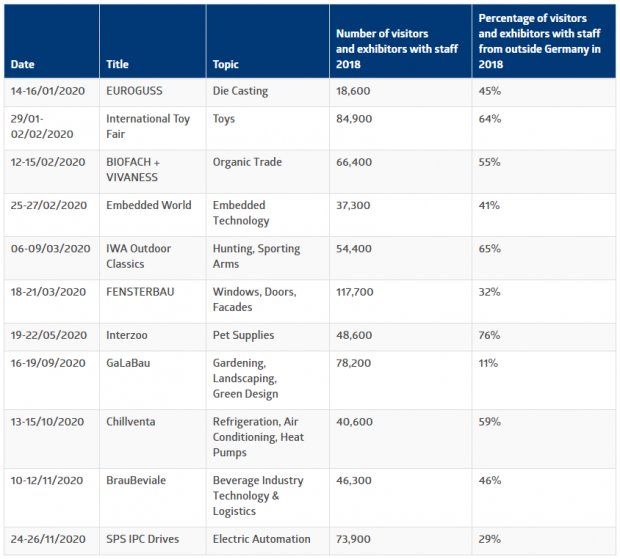 Winter in Nuremberg isn't just a long wait for the Christmas markets to open – it's prime trade fair season. Visitors and exhibitors come from all over the world – many via NUE.
In the aviation industry, there's not usually much demand in the first quarter of the year. Nuremberg, however, is different. In the colder months, the city really gets down to business at the NürnbergMesse exhibition centre. The influx of business travellers after the summer holidays and into the early winter as well as into spring keeps demand high. The events cover everything from toys to high-tech developments and organic products. 22 large international exhibitions are currently planned for 2020.
The NürnbergMesse has a strong partnership with Nuremberg Airport and makes an important contribution to the local economy. In 2018, more than 1.12 million visitors and 27k exhibiting companies attended international events held at the exhibition centre. An average of 40% of these participants were from outside Germany and many arrived and returned home via NUE.
Both NürnbergMesse and Nuremberg Airport are very aware of Nuremberg's long history as a trading centre. The city's return to a central position in Europe has benefitted trade with the former Eastern Bloc since the fall of the Iron Curtain. Poland, for example, has proven a strong source of business travellers in recent years. The establishment of a direct connection between NUE and Poland in spring 2018 increased interest in attending exhibitions at the NürnbergMesse. Between 2017 and 2019 the number of Polish visitors rose by over 60%, while the number of Polish exhibitors even rose by over 100%. Passengers can fly nonstop to Warsaw (12 flights per week) and to Krakow in summer (2 flights per week) from NUE.