Partnering up: Airline Experience Night at NUE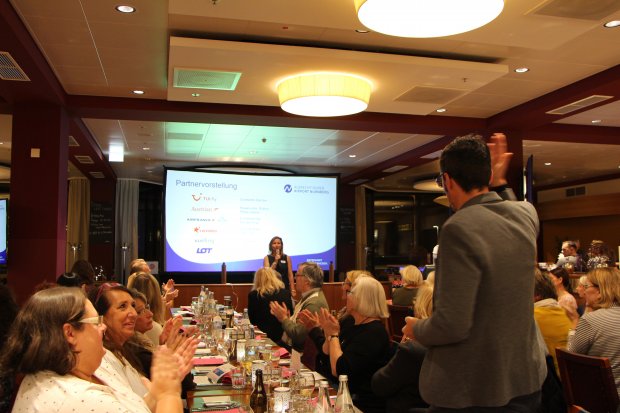 For the third time, the "Airline Experience Night" took place at Nuremberg Airport on November 14th. Once a year, the event for regional travel agencies and tour operators provides airline partners with a platform to present their product/news and to converse with the audience.
This year, TUIfly and Corendon Airlines (two NUE base carrier) as well as Austrian Airlines, Air France/KLM, Vueling and LOT Polish Airlines took the opportunity to introduce themselves to over 90 guests from tour operators and travel agencies and to update about the airline's current development. The guests from Nuremberg and the region took the opportunity to ask questions and give feedback. Between informative presentations, the duo "Bird on Strings" provided musical entertainment, while Mövenpick Restaurant offered a Spanish-Mediterranean buffet for the well-being.
Part of the night consisted of a quiz in which guests could answer questions based on the presentations and thus, win great prices from airlines, such as flights or airplane models. The event was organised and moderated by Kathrin Winkler, responsible for tourism and travel marketing, and event manager Nadine Lohmüller, both from Nuremberg Airport's Marketing and Corporate Communications team.
The Airline Experience Night format allows airline partners as well as travel agencies and tour operators to meet at eye level and to exchange views in a relaxed atmosphere. Through personal introduction travel agencies can pass on products and news to their customers more easily. Where usually contact is via phone or email, this form of networking aims at strengthening the relationship between airlines and tour operators/ travel agencies. Kathrin Winkler resumes: "This year the event was a great success again with a full audience and several on the waiting list. We are looking forward to the format growing and to accommodating even more guests next time."