Ocean of whisky lovers requires nonstop service to Scotland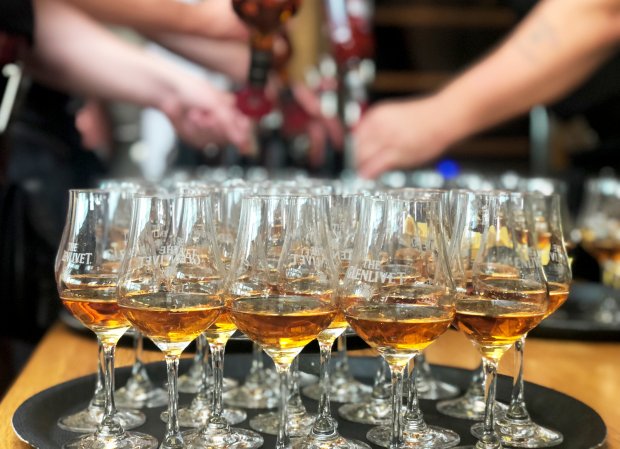 The major Scottish related community in Nuremberg requires a nonstop service to the Highlands! The region is offering a good selection of craft and original beer in return, but also an underestimated range of its own whiskeys.
The Nuremberg region and Scotland are already closely connected, just unfortunately not by air link. The City of Nuremberg and the City of Glasgow signed the town twinning agreement in 1985, however, contacts between the two cities have already been established in the 30 years before. The partnership is filled with common activities such as the
traditional Burns Supper,
internship programs,
school exchanges,
administrative visits,
festivities,
concerts and
exhibitions.
Every year in winter, the city of Glasgow is represented at Nuremberg's world famous Christmas market.
There are many start-ups in the German whisky scene coming from the region: the Franconian Elch whisky distillery for example has been recommended by the NY Times and has customers from all around the world. Nuremberg is also the location of the oldest Whisky Club in Germany: the Highland Circle, founded in 1990. The Highland Circle travels to Scotland regularly to visit different distilleries.
This heritage is combined with the largest whisky trade show in Germany taking place in Nuremberg with more than 12,000 visitors and 120 exhibitors. Even in the challenging year 2020, the trade show still attracted 9,500 visitors. The following table shows the whisky-related trade shows in Germany, ranked by number of visitors in 2019:
| | | |
| --- | --- | --- |
| Trade Show | # of Visitors 2019 | # of Exhibitors 2019 |
| The Village Nuremberg | 12,000 | 120 |
| Interwhisky Frankfurt | 8,000 | 60 |
| Finest Spirits Munich | 9,300 | 100 |
| Hanse Spirit Hamburg | 6,400 | 80 |
| Bottle Market Bremen | 6,000 | 95 |
| Whisky Fair Limburg | 5,000 | 100 |
The region's whisky lovers (but not only them) would love to consume their whisky directly in Scotland. Hoping that drinking whisky reduces the viral load, it may be a good starting point to move forward together and connect NUE to GLA or EDI which show potential for a two to three times weekly connection.