Sibiu Airport saw an increase of 64% in passenger traffic in August 2018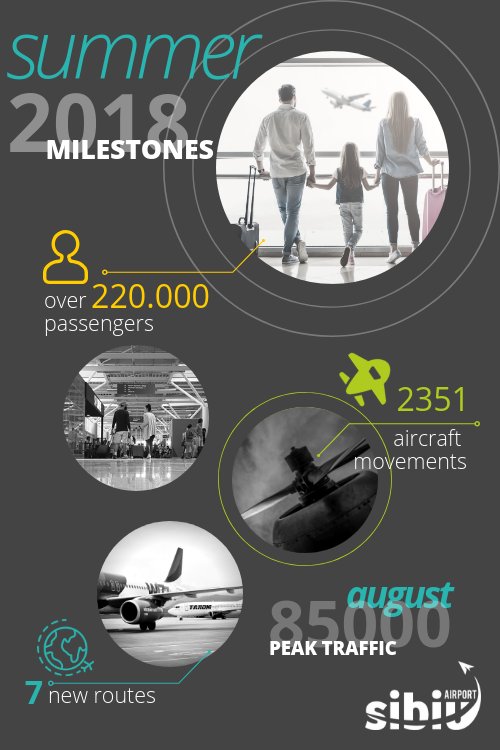 More than 220.000 passengers went through Sibiu International Airport during June – August 2018, registering an incensement of 48 percent compared to the same timeframe in 2017 when 149.000 passengers were registered travelling to and from Sibiu.
August, marked the end of summer at Sibiu International Airport with a highly positive trend and a remarkable traffic increase compared to August 2017.
Passengers numbers reached 85.000 only in August, increment of 64 percent comparing to 51.699 passengers reached the airport in August 2017.
Also, over the last month, Sibiu International Airport has witnessed a consistent growth in terms of aircraft movements: if in August 2017, 609 aircraft movements were recorded, in August 2018, they went up to 40% reaching a total of 857.
Currently, the available route network from Sibiu International Airport connects Sibiu to 15 international destinations from 10 countries: Antalya Turkey (flight operated by Air Bucharest), Basel Switzerland, Brussels Belgium, Copenhagen - Denmark, London United Kingdom, Madrid Spain, Paris Beauvais France, Dortmund, Nümberg, Memmingen, Frankfurt Hahn Germany, Tel Aviv Israel (flights operated by Wizz Air), Stuttgart (flights operated by TAROM and Blue Air), Munich (flights operated by TAROM and Lufthansa), Vienna - Austria (operated by Austrian Airlines) and the capital Romania - Bucharest (flight operated by TAROM).