Sibiu International Airport, in top airports in Europe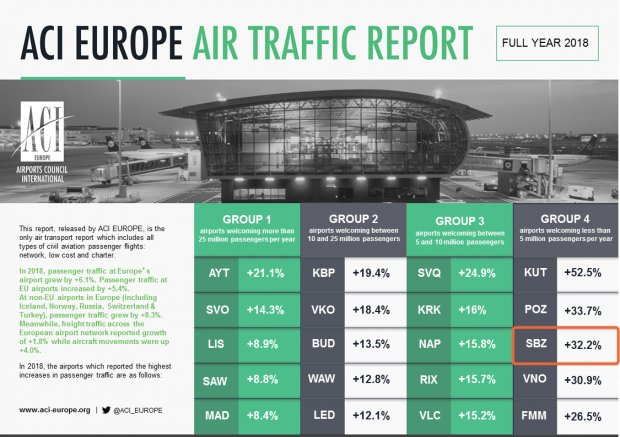 Sibiu International Airport ranked No. 3 in top airports in Europe with traffic below 5 million passengers per year which reported the highest increases in passenger traffic in 2018
According to the latest statistical data for 2018 presented by Airports Council International Europe – ACI EUROPE in the report published in February 2019, Sibiu International Airport ranked No. 3 in top airports in Europe with traffic below 5 million passengers per year which reported the highest increases in passenger traffic in 2018.
Therefore, the increase of 32.2% places Sibiu Airport ahead of airports from Vilnius (Lithuania) and Memmingen (Germany), giving recognition to the role played by Sibiu Airport in the region of Transylvania.
Also from the statistical data provided by ACI EUROPE, Sibiu International Airport ranked the same position for the second half of 2018 as well, with an increase of 51.5% in passenger traffic relative to the same period in 2017.
The results obtained by Sibiu Airport in 2018 acknowledges once again the potential for air traffic development and its presence in top airports in Europe, confirming the performances achieved by Sibiu International Airport throughout the last years.
SIBIU INTERNATIONAL AIRPORT
73 Alba-Iulia Road
550052 - Sibiu, Romania
Tel.: 0269 253 135, 0269 253 984
Fax: 0269 253 131
Website: www.sibiuairport.ro
Facebook: www.facebook.com/sbzairport
Instagram: www.instagram.com/sbzairport
Twitter: www.twitter.com/sbzairport