Port of Seattle welcomes Xiamen Airlines' inaugural flight to Seattle-Tacoma International Airport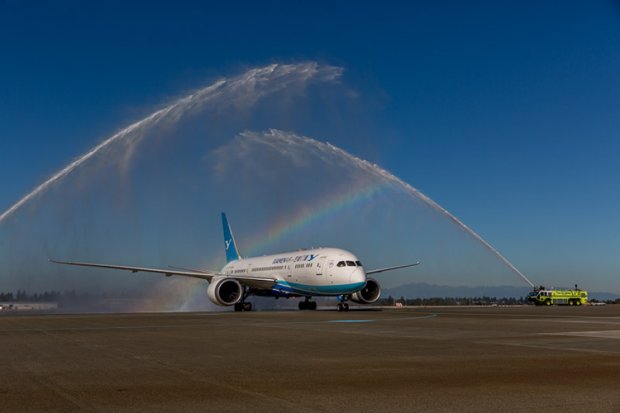 New nonstop service to Shenzhen, China is Xiamen's first entry into U.S. market
SEATTLE – The Port of Seattle today welcomed the first flight of Xiamen Airlines from Shenzhen, China to the Seattle-Tacoma International Airport with a grand celebration. The service marks the first U.S. nonstop destination for Xiamen. Today's announcement marks Sea-Tac Airport's 15th new international destination in the past 10 years.
Today's celebration included a ribbon cutting and toast to the airline, which features 787-8 service to Sea-Tac Airport. Xiamen has a special connection to the Pacific Northwest since it flies an all-Boeing fleet. The new service increases the strong business and community ties between Seattle and Shenzhen, one of China's largest cities.
"Sea-Tac Airport is one of the most connected gateways to Asia and it is an honor that Xiamen chose Seattle to launch its U.S. service," said Port of Seattle Commissioner Fred Felleman. "Shenzhen is known as the 'Silicon Valley' of China and this new destination will be a tremendous opportunity for both business and leisure travelers to experience our shared values. We commend Xiamen for using the state-of-the-art Boeing 787, which furthers the Port of Seattle's goals of being the greenest and most energy efficient port while advancing our region as a business and tourism hub."
The service begins in the city of Xiamen (headquarters to Xiamen Airlines), then shuttle to Shenzhen before making the nonstop flight to Seattle. Xiamen operates the largest all-Boeing fleet in China and will serve the route three times per week (Mondays, Wednesdays, and Fridays) with 787-8 aircraft.
"The launch of the Xiamen-Shenzhen-Seattle service is an important reflection of the results of the meeting between Chinese and American leaders," said Xiamen Airlines chairman and general manager Che Shanglun. "On the heels of these events, a Fuzhou-New York and a Xiamen-LA service will also be initiated, making air travel, and, by consequence, exchanges between the two countries much easier."
Sea-Tac Airport has been the fastest growing large hub airport in the U.S. for the past two years. In 2015, passenger traffic set a record for the fifth straight year with over 42.3 million travelers. Through the third quarter of 2016, passenger totals are up nine percent. Earlier this year Sea-Tac Airport welcomed new international service from Volaris Airlines to Guadalajara, Mexico and Condor Airlines announced new service to Munich, Germany starting in 2017.
Flight details for Seattle-Xiamen-Shenzhen service (Mondays, Wednesdays, and Fridays):
Flight MF845 departs XMN at 9:30a.m. and arrives to SZX at 10:45a.m.; leaves SZX at 12:45p.m. and arrives to SEA at 10:25 a.m.
Flight MF546 departs SEA at 1:25p.m. and arrives to SZX 6:15p.m. (next day); leaves SZX ar 8:15p.m. and arrives to XMN 9:25 p.m.
About Xiamen Airlines
Founded in July 1984, Xiamen Airlines is a unique and premium airline in China. With the cost advantage of the all-Boeing fleet, Xiamen Airlines is on the way to achieving 30 consecutive years of profitability, the longest in the history of commercial aviation in China. Xiamen Airlines operates a fleet of 153 jets, which is the biggest all-Boeing fleet in China. Xiamen Airlines is a member of the SkyTeam Alliance with "MF" as its IATA designator. Xiamen Airlines now serves an extensive domestic and international flight network reaching over Asia, Europe and Oceania. With over 320 routes in operation, the number of passengers carried annually by Xiamen Airlines exceeds 23 million. In March 2016, Xiamen Airlines won the China Quality Award, which is the highest award in the field of quality control in China. For more information, visit http://www.xiamenair.com
About Seattle-Tacoma International Airport
Operated by the Port of Seattle, Seattle-Tacoma International Airport (SEA, KSEA) is ranked as the 13th busiest U.S. airport, serving nearly 42.3 million passengers and more than 332,000 metric tons of air cargo in 2015. With a regional economic impact of more than $16.3 billion in business revenue, Sea-Tac generates 171,796 jobs (109,924 direct jobs) representing over $2.8 billion in direct earnings and more than $565 million in state and local taxes. Twenty-four airlines serve 83 non-stop domestic and 21 international destinations.
The Port of Seattle is setting the course for the future with the Century Agenda. In 25 years, we will generate 100,000 new jobs and increase international trade and tourism, while protecting the environment with innovative sustainability initiatives. Learn more about how the region's economic engine will keep powering King County's economy for years to come!