Wellington Airport opens domestic terminal development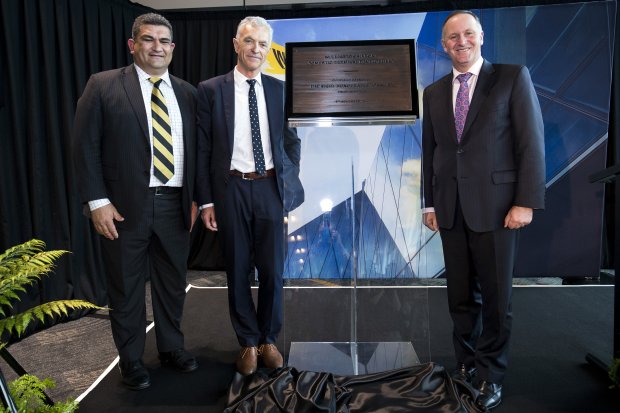 Wellington Airport's new $58 million terminal extension was officially opened by Prime Minister, The Rt. Honourable John Key, at a ceremony today at the airport.
The main terminal building and apron has been extended by an additional 6,000 square metres, the equivalent of 12 basketball courts, and includes more parking spaces for aircraft, improved passenger facilities, a centralised screening point and easier movement for travellers throughout the terminal.
"The extension can now cater for up to 1500 passengers we see during the busy hour each day," says Wellington Airport CEO Steve Sanderson.
"Passenger numbers are up by 5.6% with a record five million domestic passengers travelling through the airport in the past 12 months.
"We undertook considerable planning and worked with our airline partners, the airport community and stakeholders to ensure the extension is future proof and consistent with the existing terminal and long term expansion proposals."
Wellington City Deputy Mayor, Paul Eagle, said: "Wellington Airport is a great partner to the city in supporting events and promoting the capital and the domestic extension provides a great first and last impression for those visiting the city."
Designed by award-wining architects Warren and Mahoney, the floor to ceiling windows and laminated timber cross-braces span the full length of the south-west pier, offering views over the runway and Lyall Bay.
"Wellington Airport prides itself on providing an open space of natural light with the freedom to move around and expansive views," said Mr Sanderson.
"We like to push the boundaries to provide travellers with an interesting and unique experience. Architects Warren and Mahoney have certainly delivered this and more in the design of the domestic development."
The carpet tiles in the terminal are based on the theme of the city lights on the harbour and also feature artworks from three local Wellington artists: Timon Maxey, Rachael Gannaway and Sam Broad.
Construction of the extension began in late 2014 and was completed at the end of October 2016. Hawkins was the main contractor for the development while Beca provided engineering expertise for the project.
Work is underway on a new multi-level car parking building. Construction tenders are also out on the four-star hotel at the airport. The 134-bed hotel, built onto the northern end of the terminal and one of the few truly integrated airport hotels in the world, will include a restaurant, bar and conference facilities.