The route development forum for Asia
Chiang Mai, Thailand
• 14 - 16 February 2023
Conference Programme
Bringing together high-profile speakers and senior leaders from the route development and aviation industries.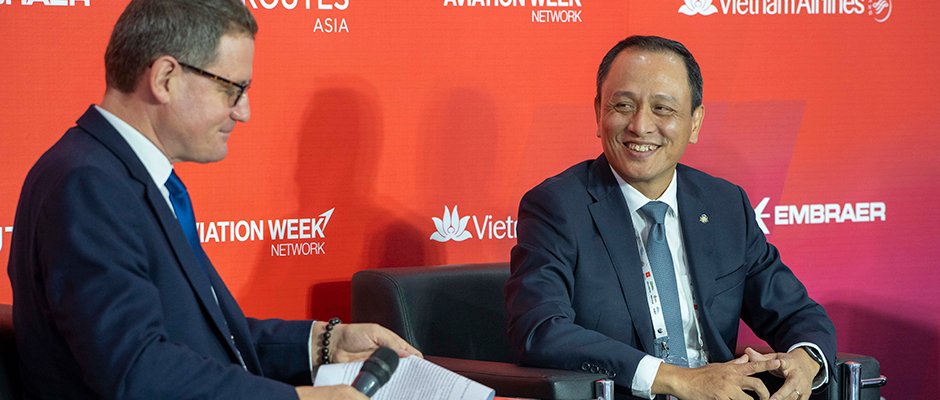 Comprising keynote interviews, panel discussions, airline briefings and best practice workshops, the Routes Asia 2023 conference programme will provide you with exclusive insight. It's time to look ahead at what the future holds for Asia's air services. Airline CEOs and aviation heavyweights will look at the issues that will forever change the industry landscape.
View the full event programme to find out what else is happening at the event.
Register your place Download event brochure
Tuesday, 14 February 2023
Welcome introduction from Routes. Hear what you can expect over the course of the event.

-

Opening Remarks

Hear more about why Routes Asia 2023 is taking place in Chiang Mai.

Hear more about why Routes Asia 2023 is taking place in Chiang Mai.

Hear directly from the leading airlines on their expansion plans over the coming years.

Although the Asia-Pacific region is playing catch-up on restarting travel after the pandemic, there is growing momentum with governments lifting many travel restrictions.

As demand for travelling is clear, it is expected that operational constraints dictate the pace of recovery. Airlines are bringing back the flights so airports need to be able to handle the demand.

Analysis of data provided by OAG Schedules Analyser shows that overall capacity to, from and within the region totaled about 479 million seats during the fourth quarter of 2022, up by about 7 million seats on the previous three months and a 27% jump year-on-year.

How is the airport industry going to look like once things have settled down? What do airports are doing to recover traffic and attract new airlines? What are the governments doing to help secure new routes?

-

CCO Keynote Interview

AirAsia Group

Hear directly from AirAsia Group's Chief Executive Officer Karen Chan about the airline growing future strategy.

-

Powerhouse Panel

State of the Airline Industry

The reopening of borders and easing of travel restrictions in the Asia-Pacific region brings positive news for airlines and airports, which have seen demand held back as a result of strict border control measures.

Traffic in the likes of India, Vietnam, Singapore, Malaysia and Thailand is really gaining traction. However, Asia's aviation recovery has lagged other parts of the world in large part because of China's ongoing border closures that have kept its international passenger numbers averaging only 2% to 3% of pre-pandemic levels, according to IATA data.

How can Asia-Pacific's aviation industry accelerate the recovery? What should governments do to restore air travel and drive confidence in the system? Has there been enough support for airlines?
Wednesday, 15 February 2023
-

Route Development

The BIG 5 MEGA Trends to look out for

As Route development emerges from the pandemic what do we need to look out for and what are the big developments that are going to shape the future

-

Panel Discussion

What next for route development?

The ever-changing nature of travel restrictions over the past two years has meant airlines have had to be creative with their network planning, launching new routes to capture pockets of demand. But as travel begins to return, will this agility remain?

Are carriers looking to recover their 2019 networks or have route maps in the region changed for good? Have fleet retirements impacted airlines' network and flexibility to serve particular markets? How has the decision-making process changed? And is there any new advice for airports and destinations?

Hear directly from the leading airlines on their expansion plans over the coming years.

-

Panel Discussion

Supplier Impact

Have fleet retirements impacted airlines' network and flexibility to serve particular markets? What are the aircraft fleet trends in the Asia-Pacific region? How have they changed during the course of the COVID-19 pandemic?

The leading aircraft manufacturers and the airlines and airports affected by the subject will discuss the shifts that have occurred over the past few years for widebodies and narrowbodies, the variations between sub-regions, and the encouraging recent signs of fleet recovery. But also, how certain aircraft models are affected, and how specific airlines are adjusting their fleet plans.

When COVID-19 hit and countries moved to close borders to protect their populations, the tourism industry shut down almost overnight, with big implications for the economy. Now countries have reopened, governments have a part to play in getting tourism back on its feet and making it more resilient to future shocks.

Government intervention, the digitalisation of the industry, the increasingly environmentally aware traveler, and the challenge of staff shortages are few of the key elements that shape the look of a new tourism industry post pandemic.

What are the new travel data forecasts showing us? What are strategies that destinations are implementing to recover quicker? Has COVID reshaped consumer demand and travel behaviors? How will travel dynamics in the region evolve?
Thursday, 16 February 2023
-

Panel Discussion

China Story

As mainland China continues to pursue a zero-COVID policy, international traffic to and from the country remains a fraction of pre-pandemic levels. However, while the timeline for China's reopening remains uncertain, carriers are starting to make tentative steps in restoring overseas routes, albeit at very low frequencies.

Will China's market come back and return to growth or will the damage to its aviation and air transport industries be long-term? How have airlines adapted their networks given the prolonged closure of China's borders? What about countries that depended heavily on China for tourism? Which markets have benefitted from China's closure?

Exclusive updates direct from key airline decision makers and network planners.

-

Panel Discussion

A Sustainable Future

The global crisis has presented airlines, airports and destinations with a "reset moment" that they can use to address long- standing challenges and seize new opportunities.

Asia-Pacific has acknowledged positive developments in a more sustainable future. As an example, Japan has committed considerable funds for green aviation initiatives while New Zealand and Singapore have agreed to cooperate on green flights. But despite these efforts, the region is at a much earlier stage in scaling the use of SAF and other decarbonisation solutions than some other markets.

How can the aviation sector work together to accelerate these efforts towards net zero CO2 emission by 2050? How are governments policies supporting and incentivizing the production capacity of Sustainable Aviation Fuels? What are the new trends on hydrogen/electric aircraft?

Exclusive updates direct from key airline decision makers and network planners.
* Please note like all events, the programme is subject to change.