Air Koryo Beijing service changes from May 2018; Wonsan launch in June 2018
North Korean carrier Air Koryo earlier this month adjusted operations on Pyongyang – Beijing service, previously listed as 5 weekly. Since 11MAY18, the airline lists 4 weekly service on its website, initially listed until 25MAY18.
Based on Air Koryo's website schedule listing, the airline temporary reduces Pyongyang – Beijing service from 5 to 4 weekly, between 11MAY18 and 25MAY18. Fridays service is not offered during this period. pic.twitter.com/f8jVEGCmaS

— Airlineroute (@Airlineroute) May 11, 2018

Based on the information listed as of 21MAY18, the 5th weekly flight will not be resumed from 01JUN18.

JS151 FNJ0850 – 0950PEK T20 26
JS151 FNJ0900 – 1000PEK A81 1
JS251 FNJ1035 – 1135PEK T20 4

JS152 PEK1200 – 1500FNJ A81 1
JS152 PEK1305 – 1605FNJ T20 26
JS252 PEK1400 – 1700FNJ T20 4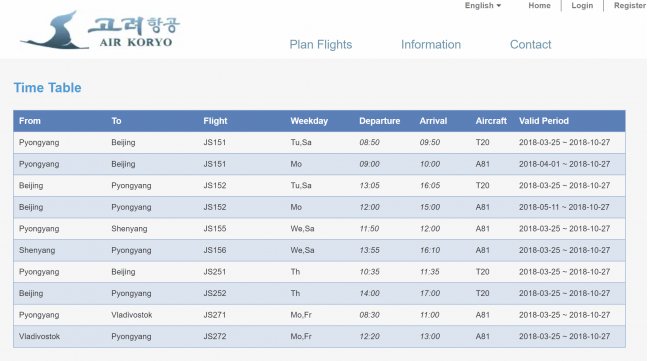 The airline also operates 2 weekly flights each on Pyongyang – Shenyang and Pyongyang – Vladivostok route.

Separately, the airline from June 2018 plans to offer Pyongyang – Wonsan/Kalma domestic service. Based on the report by DPRK Today, service operates once a week on Mondays from 04JUN18, departing Pyongyang 1000, arriving Wonsan/Kalma at 1040, while inbound flight departs at 1620, arriving at 1700. Flight number and aircraft is not specified in the report.