Continental Airlines announces new services to Auckland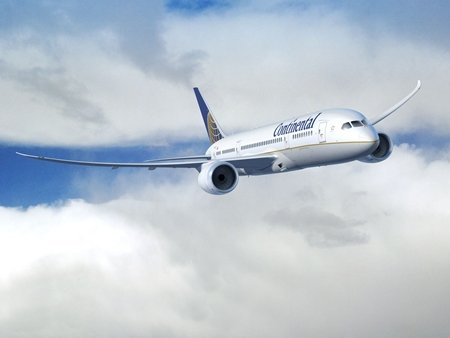 Continental Airlines today announced new services from Houston hub to Auckland, New Zealand. The first route worldwide to be announced for the new Boeing 787 Dreamliner.
Continental Airlines (NYSE: CAL) today announced another major step in development of its Houston hub with plans to begin nonstop Boeing 787 flights to Auckland, New Zealand on Nov. 16, 2011 (subject to government approval).

Auckland will be added to the 63 international destinations that Continental currently serves nonstop from Houston, and will become the 26th destination in Continental's Pacific network. Continental serves more destinations in the Pacific region than any other U.S. carrier.

Continental will be one of just three airlines flying nonstop between North America and New Zealand. At approximately 7,400 miles, the new route will be the longest from Continental's Houston hub. Continental plans to operate the route on a daily basis, with five-times-weekly service during certain periods in the first year of operation.

On May 3, Continental announced that it has agreed to merge with United Airlines in a merger of equals to create the world's leading airline. The success of the Houston-Auckland route will be enhanced by the additional traffic flows through Houston that are expected to result from the merger.

First 787 Route Announcement

Continental is the first airline in the world to formally announce specific, initial route plans for its Boeing 787 Dreamliner fleet. The airline has orders for 25 Dreamliners. The 787 is a new-technology composite aircraft with lower operating costs, better environmental performance and an improved cabin environment for customer comfort. Deliveries to Continental are expected to begin in August 2011. The aircraft will have 228 seats, including 36 of Continental's new flat-bed BusinessFirst seats for the best rest on long-distance flights.

Today Continental also unveiled a modernized and expanded customer check-in facility in Terminal C at its Houston hub at Bush Intercontinental Airport.

"Our new route to Auckland and our new and upgraded facilities at IAH are tangible examples of the emphasis we place on continuing to expand Houston's role in domestic and international aviation," said Jeff Smisek, Continental's chairman, president and CEO. "This hub has ongoing growth opportunities because it has a strategic location, space for expansion, support from the community and an excellent team of Continental co-workers who deliver our clean, safe and reliable service."

Added Greg Hart, VP-Network Strategy for Continental: "We would also like to acknowledge the work of Auckland Airport in building a strong business case for this route, introducing Continental to the right Kiwi market partners and ultimately proving the New Zealand route is viable for us."

"Auckland Airport is absolutely delighted to welcome Continental Airlines to the New Zealand market," said Auckland Airport Chief Executive Simon Moutter. "Continental is a valued Star Alliance member, and the commencement of daily services in late 2011 between Auckland and Houston opens up an exciting new U.S. market opportunity to New Zealand, and beautifully complements the market development work being done in other parts of the U.S. We are especially

pleased that Continental has chosen Auckland as a world-first dedicated route for the brand new 787 aircraft. Houston is a central American hub that offers access to a wide range of North American destinations that we think will prove extremely attractive to travellers."

"Having an additional airline of the size and scale of Continental journeying non-stop out of Houston, a new hub for New Zealand out of the United States, complements our current offer to U.S. citizens wanting to visit New Zealand for business or pleasure," said Tourism New Zealand Chief Executive Kevin Bowler. "The timing of this couldn't be better. Our research shows that U.S. visitors are highly satisfied with New Zealand's beautiful natural scenery, culture and outdoor lifestyle. Easy connections via the Houston gateway will also open up routes from further afield." Convenient Connecting Flights
The Houston-Auckland route will benefit from connecting traffic at both ends. Continental's Houston hub will draw passengers from throughout North America. In addition, Houston will be a very competitive connecting hub for travelers on itineraries between Europe and Auckland.
Auckland is home to Air New Zealand, one of the 27 carriers including Continental which are members of Star Alliance. Air New Zealand and its regional airline partners offer service to 20 destinations in New Zealand and seven in Australia, including Adelaide, Brisbane, Cairns, Coolangatta (Gold Coast), Melbourne, Perth and Sydney.

Schedule
Following is the preliminary schedule for the new service, planned to take effect Nov. 16, 2011. Continental will begin taking reservations and selling tickets on the new route later this year.
Leave Houston Arrive Auckland Leave Auckland Arrive Houston
Summer 9:30 p.m. 5:10 a.m. (2 days later) 3:40 p.m. 11:50 a.m. (same day)
Winter 9:10 p.m. 6:55 a.m. (2 days later) 5:55 p.m. 11:55 a.m. (same day)

About Houston
Houston is the fourth largest city in the U.S. Historically the country's "energy capital," Houston today has a diverse and expanding economy, including major facilities and large employment in health care, higher education, technology, transportation, space exploration and other industries. Located near the Gulf of Mexico, the Port of Houston is a large shipping terminal that complements extensive petrochemical and refining operations in the area. Rural counties surrounding Houston support agricultural enterprises and cattle ranching. Houston is known for affordable housing options, plentiful and excellent restaurants, the Galleria retail/shopping district, a vibrant culture and performing arts scene, professional sports teams and southern-style hospitality that welcomes outsiders and visitors. The city has an ethnically diverse population that complements the city's reputation as an international crossroads. More information about Houston for visitors is available from visithoustontexas.com
Continental Background
Continental Airlines is the world's fifth largest airline. Continental, together with Continental Express and Continental Connection, has more than 2,700 daily departures throughout the Americas, Europe and Asia, serving 132 domestic and 137 international destinations. Continental is a member of Star Alliance, which overall offers more than 21,050 daily flights to 1,167 airports in 181 countries through its 27 member airlines. With more than 40,000 employees, Continental has hubs serving New York, Houston, Cleveland and Guam, and together with its regional partners, carries approximately 63 million passengers per year.
Continental consistently earns awards and critical acclaim for both its operation and its corporate culture. For nine consecutive years, FORTUNE magazine has ranked Continental as the top U.S. airline on its "World's Most Admired Companies" airline industry list. For more company information, go to continental.com.