American Airlines inaugurated direct flights from Dallas and Chicago to Aruba!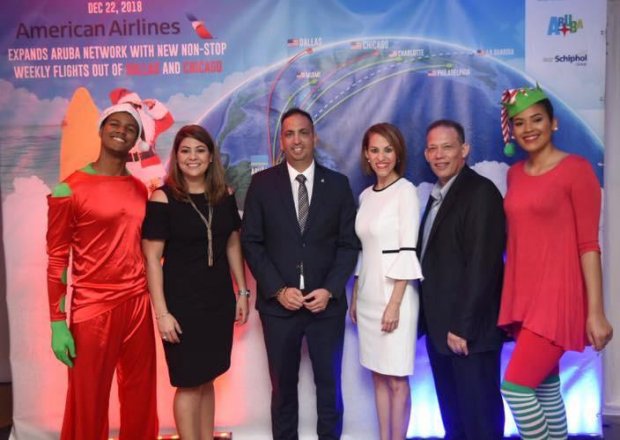 The perfect Christmas gifts for Aruba
Aruba Airport Authority N.V. (AAA) in the presence of the Minister of Tourism, Public Health and Sports Mr. Dangui Oduber, the Aruba Tourism Authority team, the American Airlines team under the leadership of Mr. Nelson Cortes, Country Manager for Aruba, Bonaire and Curacao together with other guests celebrated the inaugural of 2 direct flights to Aruba: Dallas, Texas and Chicago, Illinois.
American Airlines launched 28 flights across its network this week, with more opportunities for travel throughout the U.S., the Caribbean and South America. These additional flights to Aruba serve as strategic connections that will connect the Aruban market with various markets of interest in the US.
AAA's Air Service Development Manager Ms. Jo-Anne Arends expressed Aruba Airport's excitement in welcoming these 2 flights to Aruba: "We've been anxiously waiting for this day, as today we warmly welcome 2 new flights that will be of great benefit for the island. American Airlines has been a loyal and strategic partner for 49 years, contributing with approximately 139 thousand passengers per year for the island. The commitment to continuously expand their flight options to Aruba is to be admired and very much valued by all of us. These two flights are just in time for that last minute surprise Christmas present for any passenger! We are very thankful for the airline's trust in our local market and look forward to welcoming all passengers from Dallas and Chicago to Aruba!"
The festivities for the inaugural celebration included a token of appreciation to all arriving passengers followed by the official ceremony held in the airport's VIP-Room and the traditional, yet very modern cake as a highlight of the evening.