jetBlue 20th Anniversary Celebration at AUA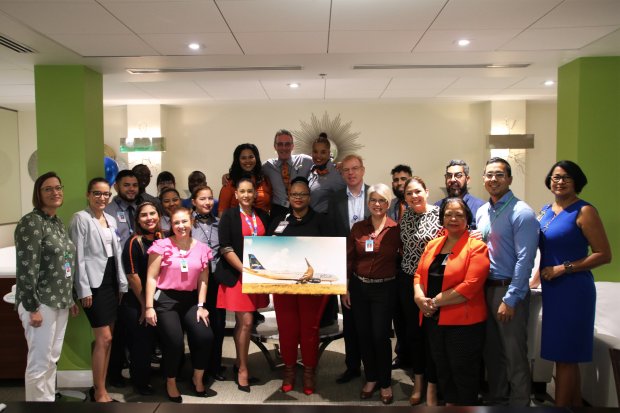 JetBlue recently celebrated their 20th anniversary on February 11, 2020.
To kick off the celebrations, AAA N.V. invited the JetBlue team at Queen Beatrix International Airport for a celebratory breakfast where they were recognized for their dedicated work and exemplary service to our passengers. AAA's CEO Mr. Joost Meijs presented the team with a beautiful canvas of their Airbus A321.
JetBlue launched service to Queen Beatrix International Airport in September 2006, with daily non-stop service between the island of Aruba and New York, JFK.
14 years later, the airline is the largest carrier serving Aruba in terms of both seat capacity and revenue generating passengers. JetBlue currently operates daily non-stop flights from 3 U.S destinations, namely New York JFK, Boston, and Ft. Lauderdale with an average of 30 weekly flights. Our valued airline partner registered 1,071 outbound flights and provided over 318,000 seat capacity to AUA in 2019 and is expecting further growth in 2020.
Looking ahead to the next 20 years
JetBlue is investing in the future of travel by bringing innovative products and services to the market, which is inspired by the same mission that made the airline the beloved brand that it is today. The airline plans on continuing raising the bar with a refresh of its fleet, new technology, and customer-friendly offerings that make its onboard experience the best of any U.S. Airline. With the 'JetBlue effect' still in swing, growth is evident for the company as the airline announces later this year details regarding transatlantic service with flights to London set to launch in 2021.
Twenty years ago, a small start-up airline changed the aviation industry in the U.S. forever. Now 470 million customers, and 102 million bags of Terra Blue chips later, JetBlue continues to be a major player in the aviation industry.
To the wonderful JetBlue team at Queen Beatrix International Airport, AAA N.V. is happy to be celebrating this milestone with you and look forward to continuous milestones together!
About JetBlue Airways
JetBlue is New York's Hometown Airline®, and a leading carrier in Boston, Fort Lauderdale-Hollywood, Los Angeles (Long Beach), Orlando, and San Juan. JetBlue carries more than 42 million customers a year to nearly 100 cities in the U.S., Caribbean, and Latin America with an average of more than 1,000 daily flights.