Arajet connects Aruba Airport Directly with Santo Domingo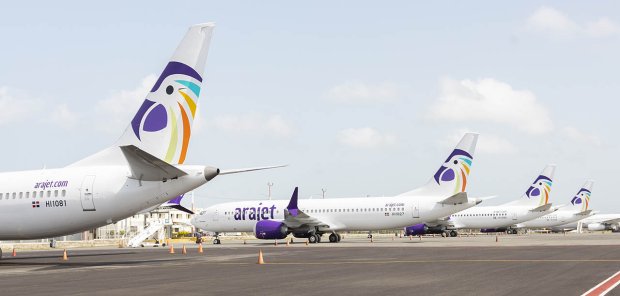 Arajet, the new Dominican low-fare airline, confirmed that all Arubans will be able to buy round-trip tickets from US$168, taxes included, for direct flights from Oranjestad, Aruba to Santo Domingo, Dominican Republic.
With this great commitment, Arajet seeks to connect Aruba with Santo Domingo and its different tourist and commercial experiences, as well as boost the economic growth and development of both countries through the commercial and tourism promotion of these two important Caribbean cities, with a common story.
The Founder and CEO of Arajet, Víctor Pacheco, assured that "Without a doubt, Aruba is for AraJet a destination with increased interest due to the demand of travelers to and from the Dominican Republic. We want to provide Arubans with an affordable travel alternative that meets their travel expectations at the lowest cost, with world-class services, and with new and more efficient aircrafts on the market".
As such it was announced that the first return flight from Santo Domingo to Oranjestad, Aruba will be on Friday, September 16th. With the opening of this destination, AraJet consolidates its presence in the Caribbean and aims to advance its expansion strategy, with which it expects to be transporting seven million passengers annually in a period of approximately five years.
Arajet arrives in Aruba with a bang, with very low fares starting at US$168, round trip, including taxes, tickets are available for purchase on Arajet.com. In addition, the airline operates brand-new 737 MAX-8 aircraft, with capacity for 185 passengers, and promises to offer the world-renowned customer service of Dominicans: warm, friendly, and world-class.
Pacheco concluded his speech by assuring that "we are assuming responsibility for the rebirth of Dominican aviation with a team of highly qualified international collaborators, to ensure that our operations meet the highest safety standards of the global aviation industry, while ensuring the best and most complete maintenance to our new and modern aircraft".
Flight Schedule
With the announcement of ticket sales, the airline shared the flight schedules that it will have available for the Santo Domingo - Aruba - Santo Domingo routes:
Santo Domingo - Aruba: 2x per week: Monday & Friday, Departure: 12:50, Arrival: 14:10
Aruba - Santo Domingo: 2x per week: Friday & Monday, Departure: 14:55, Arrival: 16:20
Completely new aircraft Fleet
Arajet will start operations with five totally new aircraft, Boeing 737 Max-800. As explained by the airline, they are state-of-the-art aircraft and designed to be friendly to the environment, with 14% less fuel consumption, compared to most single-aisle aircraft, which will allow the airline to save on fuel, maintenance, and operations costs and, in turn, pass those savings on to customer
Expanding the Santo Domingo Market
Aruba Airport is elated with this new service out of Santo Domingo with this brand new player in the market, Arajet. "With their modern, environmentally friendly aircraft Arajet is a welcome addition to our current Santo Domingo market. Expanding our route network frequencies and variety of aircraft operators to this market will be a positive boost to the travel dynamics between Aruba and Santo Domingo and provide more opportunity to our VFR market to Santo Domingo. Arajet, bon bini!- Mrs. Jo-Anne Meaux-Arends, Air Service Development Manager Aruba Airport.
https://www.airportaruba.com/press-releases/arajet-will-connect-aruba-directly-santo-domingo