Smooth Relocation to Terminal 2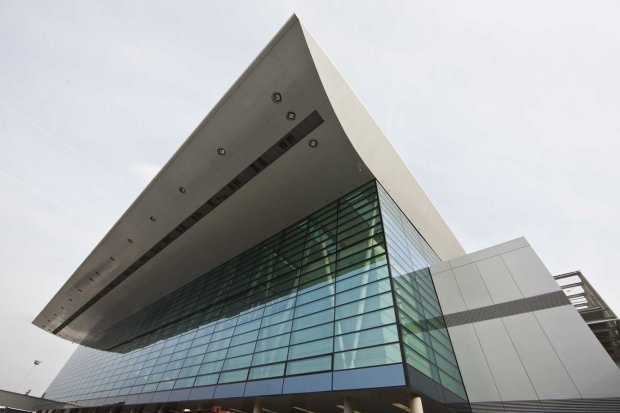 31st May 2012 "It is as if it had always been operated like this!", commented a colleague at the airport after the usual morning peak in Terminal 2 of Budapest Airport from where all early-morning flights of both low-cost and traditional carriers departed together for the first time today. Between 6 and 7 a.m., 9 aircraft of low-cost airlines and 2 aircraft of traditional carriers left from Terminal 2 with 1780 passengers combined.
It was 06:09 when Hungarian discount carrier Wizz Air's Airbus A320 left for London's Luton airport from runway 1 of Ferenc Liszt International Airport. Nothing extraordinary – except for the fact that the boarding procedure of the plane (bearing registration mark HA-LWP) was performed at Terminal 2B for the first time. Two minutes later another Wizz flight left for Catania, Sicily, then Ryanair's plane took off heading to Brussels Charleroi. In the first hour of the morning peak, 1780 departing passengers were processed through Terminal 2 without any disruption.

The historical Terminal 1 of Budapest Airport saw its last departures and arrivals yesterday evening: the last departing plane was the Stuttgart flight of Germanwings and the last arriving flight bringing passengers from Rome (Wizz Air, W6 2342) was parked in front of the Terminal at 23:48. After disembarkation and unloading of baggage, the plane was towed over to the apron of T2B where the sun this morning lit up all six purple/pink Airbus A320. Aircraft which belong to a single airline were lined up like this here on 3 February 2012 when the grounded Malév fleet was waiting for their final flight. It was exactly the collapse of the national carrier and the exceptionally high land tax levied on the airport which forced Budapest Airport to close down Terminal 1. On its "old" apron, only freighter planes and private jets remained to be serviced at the General Aviation Terminal.
Budapest Airport closed Terminal 1 for the public, and only the staff of former retail outlets were packing up in the building today, moving their stock over to Terminal 2 or back to their own plants and removing furniture and equipment. Terminal 1 is planned to be fully "hibernated" by the end of June; the building will be cordoned off to be guarded by police and the airport operator, and in addition to the required minimum heating, ventilation and air-conditioning, its regular maintenance and cleaning will also be provided by Budapest Airport. The Terminal as well as its systems and equipment will be maintained in a condition which will allow their re-commissioning within 2 - 3 weeks, if and when it is necessary. According to the airport operator's estimate, the operation of Terminal 1 will be suspended for a period of four-five years.

Terminal 1 was designed by Dávid Károly, Jr. in 1939. The half-finished building was bombed down in the air raids of 1944. Fortunately, its reconstruction after the war was based on the original design, and the building was handed over to traffic on 7 May 1950. Following the opening of Terminal 2A in October 1985, foreign carriers stayed at T1, and Malév moved over to the new building. In December 1998 Terminal 2B was opened. From May 1999 – due to the Albanian-Serbian conflict in Kosovo – the Ohio National Guard supporting NATO military operations stationed its KC-135 aerial refueling tanker aircraft on the apron of Terminal 1 during the air raids against Yugoslavia. Between 2003 and 2005, Terminal 1 was reconstructed in line with the original design, with the addition of two modern departure and arrival facilities between the wings. Budapest Airport was forced to close down Terminal 1 on 29 May 2012.