CPH traffic: Aviation was at a standstill in January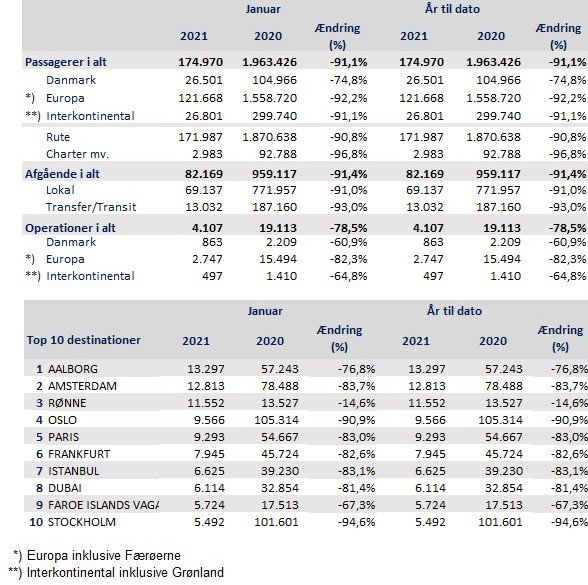 Like the rest of Denmark, aviation is at a standstill. January was the quietest start to a new calendar year for decades with an average of just 132 take-offs and landings daily in CPH. In January 2020, there were 617. However, the government's initiative for a new Corona passport and the national vaccination program lights a small candle in the Corona darkness.
After a brief boom in the summer months last year, when the number of passengers reached just under 20 per cent. of normal, traffic in CPH from the start of the year is again down to a historically low level. Only 174,970 people went through the terminals in January, corresponding to 8.9 per cent. compared to the same month last year.
"January has in every way been a sad start to the year at Copenhagen Airport, and if possible it looks even quieter in February, where there are new travel restrictions with mandatory quarantine and Corona tests for all passengers arriving from abroad," says Peter Krogsgaard,, commercial director at Copenhagen Airport.
This means that all arrivals must go through Falck's test facilities in Finger E and Finger C before arriving at passport control. The COVID-19 lightning test is free.
Travel with two passports
Although the second wave of the Corona pandemic has knocked the bottom out of the aviation economy, there is no immediate prospect of public support schemes as in 2020. It is estimated that the crisis has so far cost up to 10,000 jobs in Danish aviation alone - many of them in and around Copenhagen Airport.

"Therefore, help is needed to restart. Here we see flashes of light in the Corona darkness that has descended on aviation in Denmark and the rest of the world: partly with the rollout of the national vaccination program, and not least with the government's decision to develop "A new digital Corona passport in partnership with Danish Industry, the Danish Chamber of Commerce and the industry. This is really good news," says Peter Krogsgaard.
Initially, the plan is to develop a regular printed passport for business travelers within a month. At the same time, work is underway to develop a digital passport for all Danes. It is expected to be ready by summer.
"Travelers of the future must remember two passports - the beetroot-colored and the digital Corona passport. It will create security so that we can start traveling again in a safe and secure way without taking infection around the world. Here, however, it is crucial that you find a format that makes the Corona passport valid and valid internationally, "emphasizes Peter Krogsgaard.
Far fewer google "Travels"
Usually January is the month in which Danes start booking both winter, Easter and summer holidays. On Google trends, one can see that the search on "Travel" has been steadily declining since March last year. In July 2020, searches were half - here in January below 25 percent.
"The good thing is that after all, people are still looking for travel, even though the world is actually closed. But you can also see that many in January were about to give up a little. It is completely understandable in an uncertain world. Therefore, the vaccines and an international Corona passport is so crucial for restoring security and thus the desire to re-plan travel and get out and feel the world, "says Peter Krogsgaard.
Domestic is not quite as hard hit
With the current travel restrictions and a whole world in red, it is not surprising the European and overseas routes are hardest hit. Normally, international routes account for 94.5 per cent. of traffic in CPH. In the first month of the year, 79 per cent. of the few flights to destinations outside Denmark's borders.
Domestic is hit less hard. It can be seen in the top ten of destinations, where otherwise superb London and a number of other large hubs are overtaken by Aalborg and Rønne, which are in 1st and 3rd place respectively. Thus, the two destinations account for 14 per cent. of all travelers to and from Copenhagen. It also tells the story that the slowdown in domestic traffic is less violent, but still problematic:
"In general, it is of course difficult to run an airport when there are virtually no passengers. But right now the Danes can neither dare nor dare to travel. We believe, however, that the initiative with the new Coronapas will strengthen both desire and hope, so there is hopefully light ahead of aviation, although it may take a long time, "says Peter Krogsgaard.