Curaçao International Airport – Passenger Traffic Review Q3 2022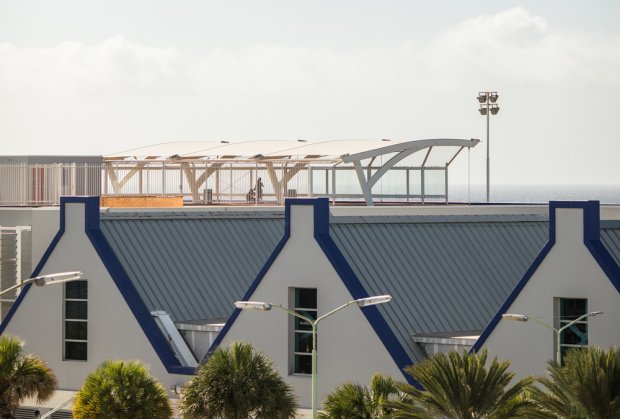 Summer Holiday Traffic made for a busy runway
The Summer holidays fueled by pent-up travel demand positively contributed to further grow passenger traffic in Q3 2022 and year-to-date September 2022 recovery compared to 2019 at Curaçao International Airport. Total Passenger Movements (all arriving and departing passengers through our terminal) were 399,000 during Q3 2022 which is a +12% growth compared to Q2 2022, and a 110% recovery compared to year-to-date September 2019. The Netherlands continues to dominate the market with a 52% traffic share; Dutch Caribbean 16%; USA 16%; and South America 13%.
Towards the latter part of August, passenger traffic from Europe started to slightly decline ending the Q3 2022 with a -2% decrease in market share. The opening of Royal Sandals Curaçao on June 1, 2022 increased the US market share in Q3 by +3%. The influence dubbed the 'Sandals Effect' grew the US carriers Load Factor (occupied seats compared to available seats per flight) by as much as 20 points during Q3 2022 and the trend is expected to continue. According to Forwardkeys, Curaçao is currently the fastest growing destination in the Caribbean for premium class seats compared to 2019 with a +120% growth. South America is rebounding strongly with Brazil and Uruguay connecting primarily via Bogota and Panama thus increasing Q3 2022 South American market share by +3% compared to Q2 2022.
Q3 2022 Traffic Results – not without challenges but surpassed overall 2019 passenger traffic
Monthly traffic figures for Q3 2022 indicate an overall passenger traffic increase in July of +18% compared to June 2022. August traffic increased by +5% compared to July 2022 and September traffic decreased by -16% over August 2022. The average Load Factor for Q3 2022 was 86% compared to an average load factor in Q2 2022 of 84% a growth of +2 points quarter over quarter. Monthly traffic recovery Q3 2022 compared to Q3 2019, was 112% for July; 110% for August and 106% for September 2022.
The challenges at Schiphol airport continued to impact the passenger travel experience from Amsterdam and the connecting German passengers traveling to Curaçao via Amsterdam. In addition, passenger traffic from Europe started to slightly decline after the summer holidays. The destination of choice during the summer holidays for the local community was Colombia, more so than the USA and Europe.
Curaçao Airport Partners NV, CAP, is pleased with the positive overall Q3 2022 traffic results, and the year-to-date September 2022 recovery of 102% compared to 2019. CAP anticipates growth for Q4 2022 but with continued cautious optimism. The challenges that loomed throughout the year and that continue to be of concern are the pandemic, the war in Ukraine, inflation, gas prices in Europe, flight cancellations, continued airline and airport shortages of crew and personnel, the weakening of the euro, and a recession. Despite the challenges the additional room capacity and the stimulation of the US market, has CAP anticipating ended 2022 close to 1,400,000 passenger movements, an estimated 90% passenger traffic recovery compared to 2019. And CAP continues to focus on retention, diversification, and growth of air service into Curaçao. This in close partnership with the Tourism Board and the Hospitality Tourism Association.