Airport company to take over aviation security controls at BER from 2024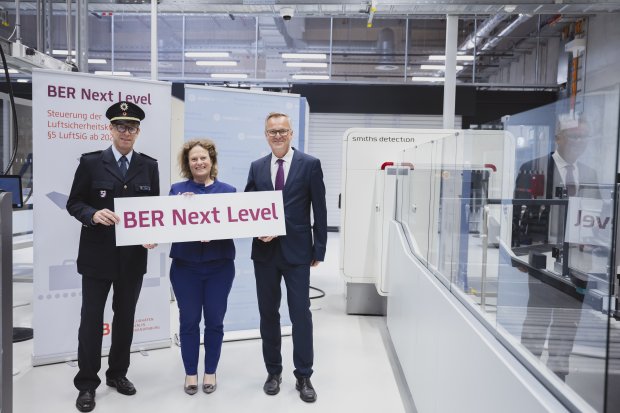 Federal Police hand over certificate of responsibility
The airport company, FBB, has been given more responsibility for aviation security controls at BER Airport. The Federal Police today handed over responsibility of implementation, planning, management and financing of aviation security controls on passengers and their baggage to FBB in accordance with Section 5 of the German Aviation Security Act (LuftSiG), with effect from the beginning of 2024. The ceremony marking the handing over of responsibilities took place on 4 October 2023, which included the handover of a relevant certificate of responsibly. This signifies an important milestone in the reorganisation of aviation security controls at BER from 2024.

BER is the second German airport after Frankfurt am Main to reorganise its duties in the area of aviation security controls on passengers and their baggage and to assume responsibility for this important process step in airport operations itself.
Carsten Glade, President of the Federal Police Department Berlin: "Together, the Federal Police and FBB have prepared everything so that FBB will be able to fulfil the tasks that are being transferred to it from 1 January 2024 at the usual high quality while complying with the required safety standards. It can continue to rely on the cooperation and, if necessary, expert advice of the Federal Police. We have confidence in FBB as it does in us."
Aletta von Massenbach, Chief Executive Officer of Flughafen Berlin Brandenburg GmbH: "Passenger safety at BER Airport remains the top priority. By taking over responsibility for passenger and carry-on baggage controls, we as an airport company will be organising the processes and technology in our terminals starting next year. By doing so, we want to improve processes at the control lanes and reduce waiting times for our passengers."

In addition to Hans-Georg Engelke, State Secretary at the Federal Ministry of the Interior and Community (BMI), representatives from FBB and the Federal Police Department at BER Airport as well as other representatives from the BMI and the Federal Police Headquarters also took part in the ceremony.
The Federal Ministry of the Interior and Community remains the highest aviation security authority and is, therefore, responsible for all issues relating to aviation security. The Federal Police will continue to administer specialist supervision over aviation security control measures at BER Airport. The overall objective is to ensure that the existing high level of aviation security continues to be maintained. A new tender procedure for aviation security control services is being prepared by the airport company for 2025. The airport company is continuing to procure new control technology. Modern CT scanners will enable a new and improved passenger experience in the future. The Federal Police already implemented the first steps for this in 2023.
Press contact
Flughafen Berlin Brandenburg GmbH
Sabine Deckwerth and Jan-Peter Haack
Corporate Communication
Tel: +49 (0)30 6091-70100
www.berlin-airport.de
Federal Police Department Berlin
Jens Schobranski
Press Office
Tel.: +49 (0)30 91144 4050
www.bundespolizei.de