Around 2.2 million people once again travelled via BER in September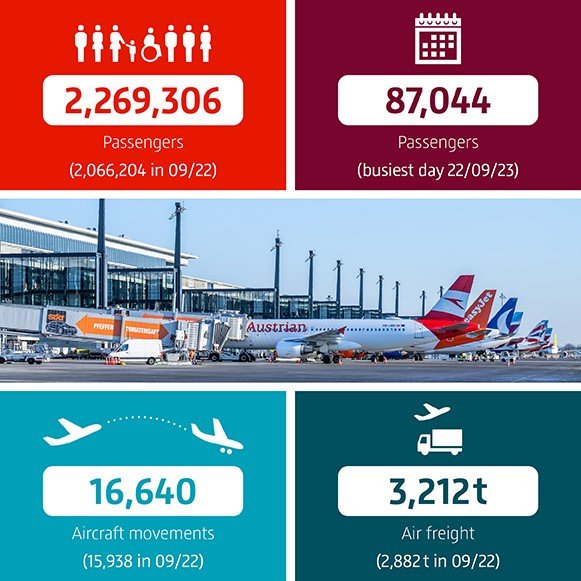 Number of passengers increased slightly
The number of passengers at Berlin Brandenburg Airport increased last slightly last month. Around 2.27 million passengers used BER Airport in September 2023, which was around 50,000 more than in the previous month of August. This corresponds to growth of 9.8 percent compared to the same month in 2022. Before the Coronavirus pandemic, in September 2019, around 3.3 million passengers used the then Tegel and Schönefeld Airports. A total of almost 17.2 million passengers travelled via BER in the first three quarters of this year. Around 14.6 million travellers in the first nine months in the same period last year.
Last month, 16,640 aircraft took off and landed at BER – around 500 more than in August 2023. There were around 700 fewer aircraft in September of the previous year 2022. There were around 25,700 aircraft movements in September 2019.
Last month, a total of 3,212 tonnes of air cargo were loaded at BER. This is an increase compared to September last year, when 2,882 tonnes were loaded, and also compared to September 2019, when 3,017 tonnes were loaded.