October was the busiest month of the year so far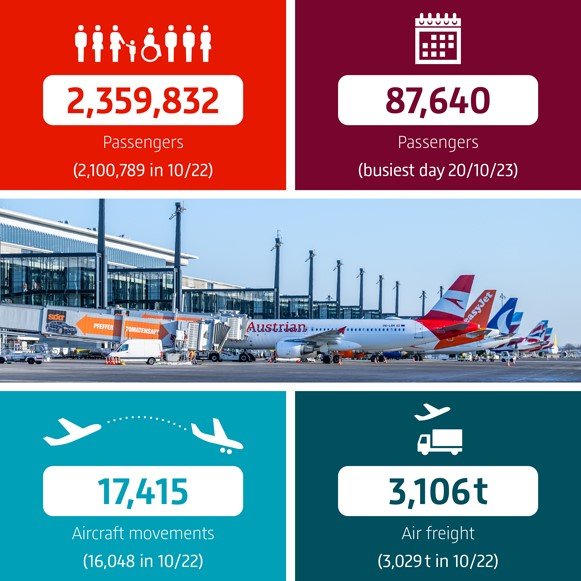 More than 2.3 million passengers used the BER
With the autumn holidays in Berlin and Brandenburg, October was the busiest month for travel in 2023 to date. Last month, around 2.36 million passengers passed through Berlin Brandenburg Airport. That is around 90.000 more than in the previous month of September. During the autumn holidays alone, 1.2 million passengers used BER.
Throughout October 2022, there were 2.1 million passengers. In October of the pre-corona year 2019, around 3.2 million passengers were counted at the former Tegel and Schönefeld airports.
A total of 19.5 million passengers took off and landed at BER in the first ten months of this year. That is almost as many as in the whole of 2022 with 19.8 million passengers. Last month, around 17,400 aircraft took off and landed at BER. This is around 1,400 aircraft more than in October 2022. Around 25,600 aircraft movements were registered at Tegel and Schönefeld in October 2019.
Overall, around 3,100 tonnes of air freight were handled at BER in October 2023, which was almost as much as in the pre-corona year 2019.