Challenging year leads to new airline structure at NUE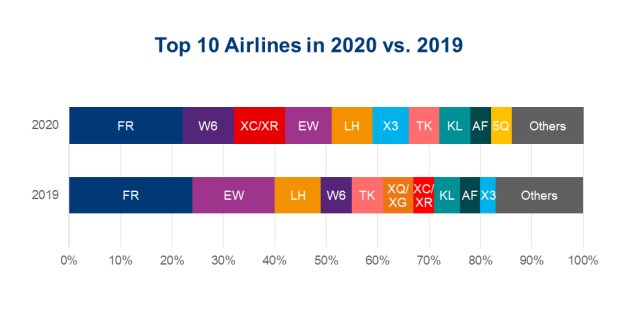 The airline mix at NUE in terms of market share saw a structural shift: 2020 proved the sustainability of VFR-routes at NUE!
Jumping from fourth place to second was Wizz Air with Ryanair staying in first place. Corendon Airline's market share has improved as well in 2020, when S20 was the first summer season with a based aircraft in Nuremberg.
TUIfly jumping to third and sixth place shows that the NUE catchment still wanted to travel to their vacation destinations – especially in the summer season. The traditionally strong segment of the full service carriers was massively effected by the pandemic. Business travel was on the lowest level since the late 80ties.
Overall, the market shares of the top 5 to 10 carriers were more evenly distributed than the year before.
If you want to find out more about 2020 at NUE, click here.