Etihad Celebrates 15 Years at Dublin Airport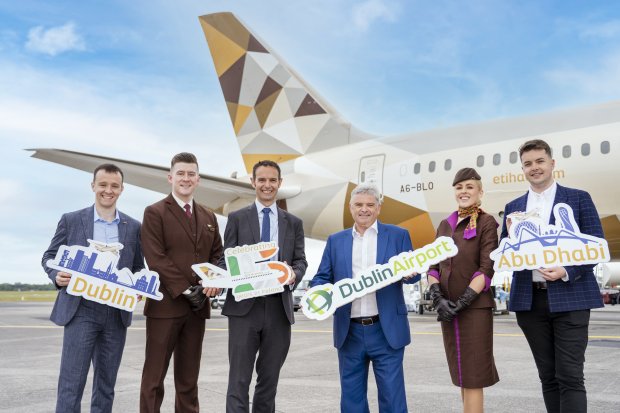 Etihad celebrated 15 years of service with Dublin Airport. The flight between Dublin and Abu Dhabi took off on Thursday, 21 July, and marked a significant milestone that Etihad have reached.
Etihad started a direct service between Dublin and Abu Dhabi in 2007 and has since vastly expanded their service offering.
Congratulating Etihad on its significant milestone Dublin Airport Managing Director, Vincent Harrison said,
"It is great to be able to celebrate this milestone with Etihad, we have enjoyed working with them over the past 15 years and will continue to work and grow together in promoting their service with Dublin Airport, of connecting Dublin to the world. Etihad provides both business and leisure passengers with greater choice and flexibility to destinations in Australia and the Far East via Abu Dhabi. We continue to wish Etihad every success."
Martin Richard Drew, SVP Global Sales & Cargo, Etihad Airways, celebrates this milestone, saying:
"Etihad is very excited to be celebrating its 15 year anniversary of flying to Ireland. Our direct service from Dublin Airport has been a gateway for Irish travellers to explore hundreds of international destinations including our home in Abu Dhabi as well as Sydney, Melbourne, Bangkok, the Maldives and the Seychelles.
"Our team in Ireland work closely with local partners to ensure a seamless journey and great customer service. We have also been very proud to have won numerous awards along the way including the Irish Travel Trade Award for 'Best International Airline'."
To date, Etihad carried more than 3.6 million passengers to and from Ireland, connecting guests with the world via Abu Dhabi. Etihad connects passengers to 67 destinations worldwide covering the Middle East, Africa, Europe, Asia, Australia, and North America