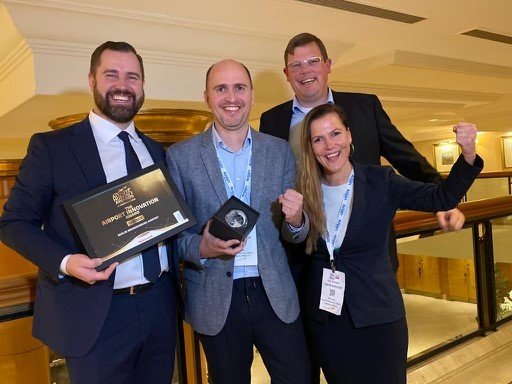 BER wins Airport Innovation Award 2023
Berlin Brandenburg Airport (BER) has won the Airport Innovation Award 2023. BER was successful competing seven leading global airports, including hubs like Doha, Vienna, Frankfurt and Amsterdam, at the award ceremony in London on 14 November. The award is presented by the International Airport Review as part of the Airport Honour Awards.
Thomas Hoff Anderson, Chief Operations Officer, Flughafen Berlin Brandenburg GmbH: "We are extremely proud to have won the Airport Innovation Award 2023. This award is an acknowledgement of our continuous efforts to increase service quality, improve the passenger experience and the operational efficiency at BER. We are particularly pleased that our innovative products like BER Runway, the biometric solution BER Traveller and self-service check-in have been so well received by passengers and the aviation industry".BER continuously invests in the development and implementation of digital products to improve the passenger experience. By introducing innovative solutions such as BER Runway and BER Traveller, BER has put passengers back in control of their journey and at the same time paved the way for a more seamless travel experience.