New Long-Haul Route from BER to Washington, D.C.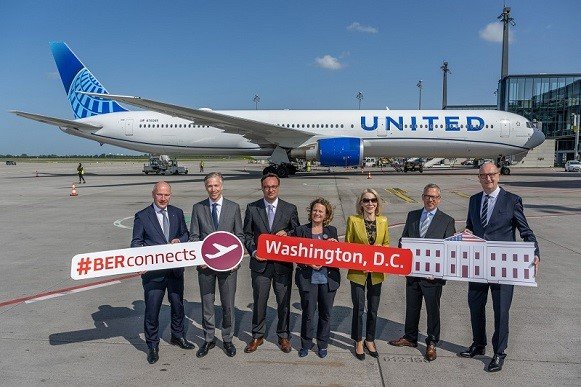 United Airlines Expands its USA Offer
The capital regions of Germany and the USA are now connected by a new, direct long-haul route. The US airline United Airlines will fly daily from 26 May, 2023 from Berlin Brandenburg Airport to Washington, D.C. The long-haul connection to the US capital will be offered seasonally until the end of the summer flight schedule. It is served by a Boeing 767-400, which offers space for 240 passengers. In addition, the airline continues to fly daily from BER to New York/Newark.

Aletta von Massenbach, CEO Flughafen Berlin Brandenburg GmbH: "With the new, direct connection from BER to Washington, D.C. the two capital regions are only about 9 hours apart. This second connection to the east coast of the USA represents a significant increase to United Airlines' commitment to BER. The BER - Washington route helps to further strengthen cooperation and tourism between Germany and the USA and strengthens the attractiveness of the booming Berlin-Brandenburg region as a business location. I wish all passengers a great flight."

Dr. Amy Gutmann, U.S. Ambassador to Germany: "This new United Airlines flight between Washington, D.C. and Berlin will present even more opportunities for Americans and Germans to meet with each other and learn from each other. With this flight, the unique cultures and histories of our two countries become even more accessible."

Kai Wegner, Acting Mayor of Berlin: "Berlin and Washington, D.C. are moving a step closer: after more than 20 years, a direct connection is once again available between the capital cities. The new direct route will not only simplify cultural and tourist exchange, it will also strengthen economic, scientific and business ties. The entire metropolitan region of Berlin-Brandenburg, one of the fastest growing locations in Germany, will benefit from this. Berlin's attraction is unbroken - we warmly welcome all visitors!"

Dr. Dietmar Woidke, Minister President of the State of Brandenburg: "This is a day of joy for Brandenburg and the entire capital region. With the new direct route, BER raises its status as 'gateway to the world'. Good direct connections are an important catalyst for economic development. The new route to Washington, D.C. will further increase the attractiveness of Brandenburg as a business location."

Thorsten Lettnin, Director Sales Continental Europe, Middle East, Africa, India and Israel, United Airlines: "As the only airline connecting Berlin with Washington, D.C., we are excited to launch this new capital-to-capital service. The new route compliments perfectly our offer from BER adding besides New York/Newark also the US capital on the list of nonstop flights. Furthermore, our passengers will have comfortable connections via these two hubs to more than 60 cities in the US. With this new route, we are offering the most flights from Germany to the United States in our history, with up to 18 daily flights and almost 5,000 seats per day from Germany to our U.S. hubs this summer season. For our customers in Germany, this means even greater travel choice and the possibility to connect via our U.S. hubs to other destinations across the Americas."

Robert Rückel, Vice-President of the Chamber of Commerce and Industry of Berlin: "In terms of recovery after the pandemic, German air traffic is lagging behind the EU average. That's why we're all the more pleased that United Airlines is now connecting the German and US capitals on a seasonal basis. We have to build on this success and attract more routes, both intercontinental and within Europe, because connectivity with the world is a basic prerequisite for the success of Berlin's economy!"

Flight Plan BER – IAD
Beginning 26 May, 2023, United Airlines will fly daily from BER to Washington, D.C. (IAD).

Direction Flight number Departure (local time) Arrival (local time)
BER - IAD UA 235 11:10 hrs 14:30 hrs
IAD - BER UA 234 17:45 hrs 08:20 hrs (following day)

Connecting Flights
Via the Washington, D.C. and New York/Newark hubs served from BER by United Airlines, passengers have access to more than 280 destinations in the Americas, including the US cities of Chicago, Los Angeles, Seattle and Fort Myers.

United Airlines at BER
The direct service to Washington, D.C. is being offered for the first time from the German capital region. New York/Newark has been an integral part of the flight programme from Berlin since 2005. Initially, long-haul routes were served with Continental Airlines from Berlin-Tegel, but since 2010 they have been flown by United as a result of the merger of the two airlines. Due to the corona pandemic, the route was interrupted between 2020 and 2022.

The US airline is a founding member of Star Alliance™. In 2022, United and United Express® carried more than 144 million passengers. United boasts the most extensive route network of any North American carrier, with US hubs in Chicago, Denver, Houston, Los Angeles, New York/Newark, San Francisco and Washington, D.C.

Three service classes – United Economy, United Economy Plus and United Polaris Business Class – can be booked on flights from BER. Lunch, snacks, drinks and in-flight entertainment are also included in Economy Class.

Capital Region USA
Washington, D.C. is the heart of the capital region, bounded by the state of Maryland to the north and the state of Virginia to the south. The region is an attractive travel destination whose landscape is characterised by beautiful beaches along the Atlantic coast, scenic national parks, mountains and culturally interesting cities such as Baltimore, Richmond and of course Washington, D.C.