Non-stop from Berlin to Casablanca with Royal Air Maroc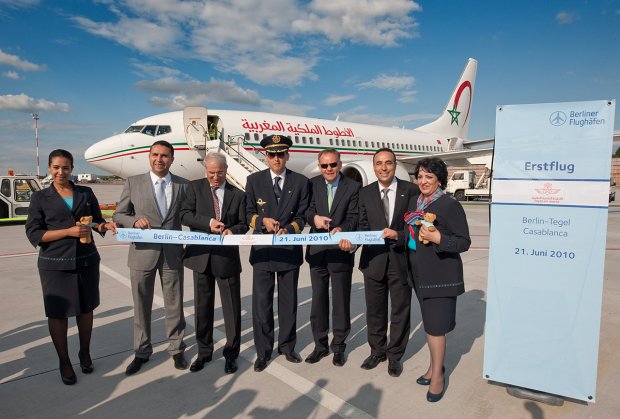 New route from Berlin-Tegel / Three flights a week to Morocco
The flag carrier airline of Morocco, Royal Air Maroc, is now offering a new route from Berlin, with three weekly non-stop flights from Tegel to Casablanca.
"We are delighted that Royal Air Maroc is offering the first connection between Berlin and Casablanca. Berlin Airports can expand its extensive range of international flight offerings just in time for the peak holiday season", says Dr. Rainer Schwarz, CEO of Berlin Airports.
"The new route strengthens our strategic position in Germany. The Berlin-Casablanca connection will bring two vibrant cities closer together", says Fraid Zamakhchari, Director of Operations at Royal Air Maroc Germany.
The airline is now offering three weekly flights from Berlin to Casablanca. Morocco's biggest city attracts visitors with its charming Old Town (Medina) and French quarter with wide, splendid boulevards and interesting Moorish-style buildings. The new Hassan II Mosque is one of the biggest in the world.
Flights depart from Berlin-Tegel every Monday, Wednesday and Friday at 6.15 p.m., landing four hours later in Casablanca. Return flights also depart every Monday, Wednesday and Friday at 12.25 p.m., landing in Berlin at 5.15 p.m. Royal Air Maroc is offering several flights from Casablanca to other African cities. Flights can be booked online at www.royalairmaroc.com and by calling +49 69 9200-1461.
Flughafen Berlin-Schoenefeld GmbH
Press Office
Ralf Kunkel
Phone +49 30 6091-2055
Fax +49 30 6091-1643
pressestelle@berlin-airport.de
www.viaberlin.com