Faro Airport welcomes inaugural flight from Madrid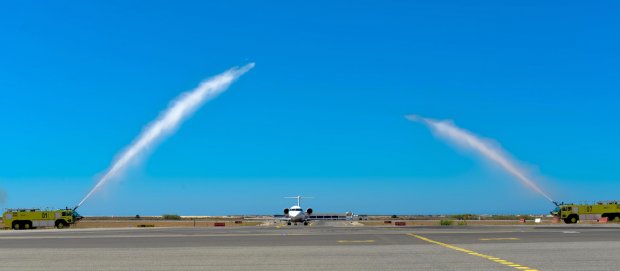 First flight 02 June 2015
Faro Airport and the Algarve Tourist Board launched yesterday the new direct link to Madrid served by Spanish airline Air Nostrum.
To mark this important connection from Faro and the Algarve region to one of the world's largest air connection ports - Madrid, the President of the Region of the Algarve Tourism, Desiderio Silva and the Director of Faro Airport, António Correia Mendes, greeted arriving passengers to Faro with some of the most unique flavours and characteristics of the Algarve.
The new link, which has the support of the Algarve Tourism Board, will operate between June and September 2015 with a Bombardier CRJ 90-seat, which will represent an overall capacity of 8,500 seats and 102 movements.
JUNE, JULY, SEPTEMBER
Days of operation
Monday, Friday and Sunday
Departure
Madrid-Faro 11:35
Faro-Madrid 12:45
AUGUST (22nd of July until 1st of September)
Days of operation
Tuesday, Thursday and Friday
Departure
Madrid-Faro 11:35
Faro-Madrid 12:45
Information and Bookings visit http://www.airnostrum.es/