Equestrian events fill the Algarve again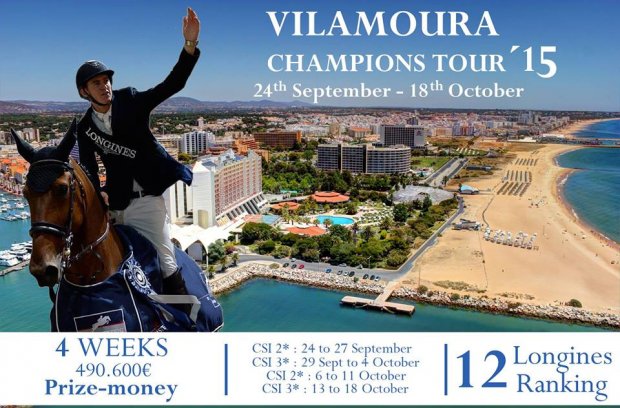 The Algarve welcomes once again the Vilamoura Champions Tour 2015
The event brings to the Algarve from the 24th of September until the 18th of October the best show jumping riders in the world and is one of the most prestigious international events of its kind.
The competition will bring together 900 horses, 280 riders (professional and amateur) from 30 countries, such as Australia, Argentina, Japan, Bermuda, El Salvador, USA, New Zealand, Russia, Israel, Germany, Great Britain, France and Brazil.
The event also brings to the Algarve approximately 2000 people among riders, families and guests, judges, vets, grooms and the organization who will make Vilamoura their home for 4 weeks.
It is also expected around 6 thousand visitors during the competition which will provide a strong economic boost for tourism in the Algarve now that the peak summer season is over.
Moving on from 2014, the 2015 event has doubled its number of participants, with registrations fully booked one month before the beginning of the competition.
The short term objective is for large international equestrian events such as this to take place in Vilamoura, on an ongoing basis, between the months of September and April.
The Vilamoura Champions Tour is also beneficial for the hotels of the region, who will see an increase in occupancy of approximately 45 thousand room nights, noting that during the 4 weeks of the event, the 5 star hotels of Vilamoura are practically fully booked.
The organizing entity, Alubox, managed by António Moura, estimates that the Vilamoura Champions Tour will bring an revenue of approximately 4 to 5 million euros per week, and total of 20 million throughout the event.
Prize money is 490 thousand euros, which includes 2 Grand Prix 2* and 2 grand prix 3*. In total, 12 of the individual competitions of the event count towards the international Longines Ranking by FEI (Fédération Equestre Internationale).

Full details and information: Facebook page or Alubox