The route development forum for Asia
Brisbane, Australia
• 18 – 20 March 2018
Getting to Brisbane
Brisbane Airport has two major terminals servicing 32 airlines flying to 83 destinations.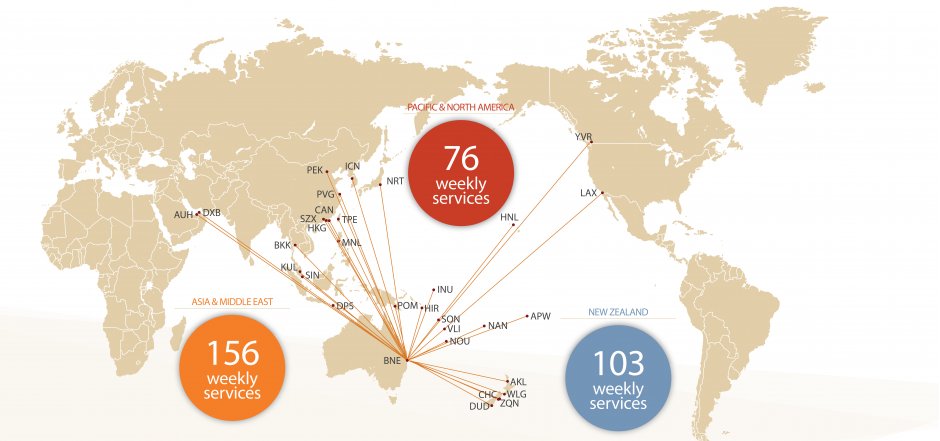 Brisbane Airport is Australia's third largest hub and the premier gateway to Queensland. The airport offers accessibility from all parts of Asia with 156 weekly services from Asia and the Middle East - it's international traffic grew by more than 7% to more than 5.6 million in 2017. Find out more about Brisbane's decade high-growth in international traffic.
Many of the international carriers that serve Brisbane Airport have increased the frequency of their services to accommodate the growing demand. Hainan Airlines launched a twice weekly flight between Brisbane and Shenzhen in September 2017. China Eastern will also be flying between Brisbane and Shanghai daily from November 2017. Emirates will also be increasing flights to/from Dubai from two to three daily from November 2017.
Major investment plans are already underway at the airport, enabling Brisbane to achieve its a target of doubling passengers, jobs and investment at the airport by 2020. Since 2012, the hub has invested more $1.6 billion in major infrastructure projects, with a further $2.2 billion set to be invested over the next five years.
Brisbane Airport has been awarded a number of accolades including being named in International Airport Review's 'Top 20 World Airports' in 2017. Delegates travelling to Brisbane for Routes Asia are sure to experience a 'first class welcome' from our hosts.