Athens : the return of the US market is a vote of confidence for Athens and Greece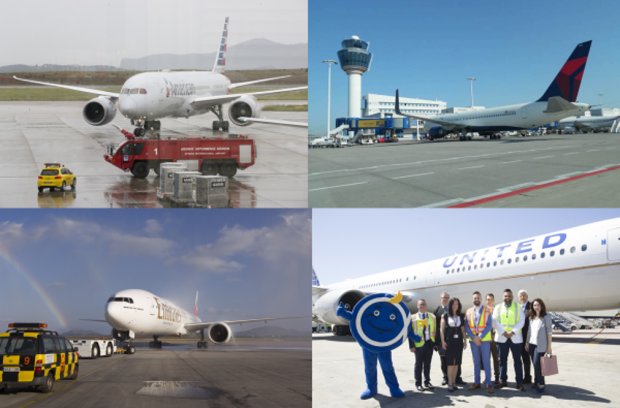 American Airlines will offer the largest number of gateways from Athens, while Delta Airlines and United Airlines will add new destinations (Atlanta and Washington D.C.) and Emirates resuming its 5th freedom service to Newark
As Greece is getting ready for the Summer season and allowing Tourist to enjoy holidays in Greece, provided they hold a vaccination certificate or a negative PCR test, US airlines and Emirates, all step-up to reinstall capacity and add new services between US and Greece.
The US market was Athens largest International market in terms of Foreign residents arrivals, back in 2019, with 694,000 arrivals +2% growth vs. 2018.
Non-stop, direct traffic to/from US at 586,000 (2019) +21% vs. 2018, resulting in +100,000 additional passengers
For 2019, total US market estimated at approx. 1,48mio round-trip passengers
Based on Athens International Airport 2019 Passenger survey, US market is characterized by strong Leisure traffic 84%, followed by VFR 13% and Business 3%. Non Greek residents traffic accounts for 94% with the remaining 6%, on Greek residents.
2019 Passenger survey and Sabre Market Intelligence data revealed that, TOP 3 US destinations with Indirect traffic are New York, followed by Los Angeles and Boston, with the last 2 unserved.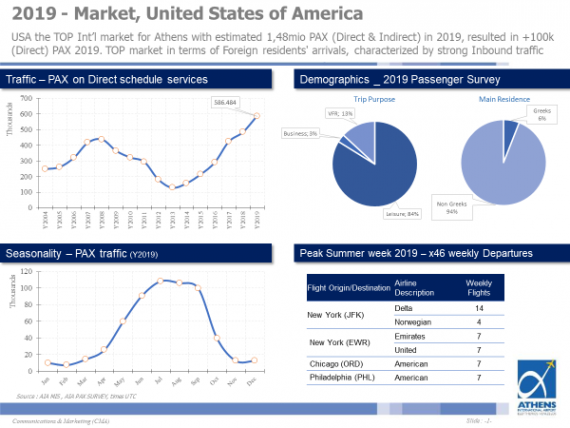 For Summer 2021 the following developments for the US market are announced .:
American Airlines will add one new daily service to New York (JFK), continuing previous Chicago and Philadelphia daily services. American Airlines will offer the largest number of non-stop destinations from Athens to US
Delta Airlines will introduce Atlanta as a new destination with daily services (last operated at Athens in 2011), continuing double daily New York services. Delta Airlines will be the first airline, on the 28th of May, to resume operations to the US after a long 13months break due to COVID-19 travel restrictions
United Airlines will add a new daily service to Washington D.C. and will continue offering its daily New York Newark service. The addition of Washington D.C. by United Airlines is a brand new addition in Athens network
Emirates Airlines will resume its successful 5th freedom service to New York Newark, started in March 2017. Emirates is the only airline offering non-stop year-round service to the US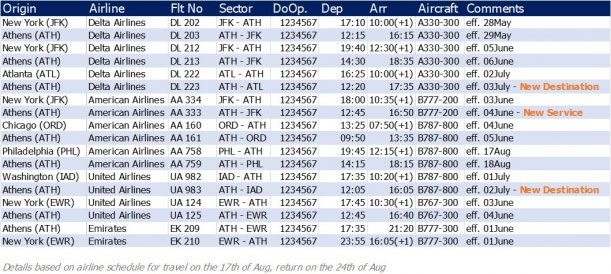 Based on current schedules, Athens in August 2021 will be served with 63 weekly frequencies to the US and connected to 6 destinations, operated by 4 airlines, deploying 5 different aircraft types.
Compared to August 2019, Athens will receive a 20% increase in available non-stop capacity to the US market.
As per latest Travel advise by the Hellenic government, permanent residents from Australia, New Zealand, South Korea, Thailand, the United Arab Emirates, the United States of America, Singapore, Rwanda, Israel, Russian Federation, Serbia and the United Kingdom can enter Greece without quarantine, provided Passengers can demonstrate a certificate of vaccination completed at least 14 days before arrival OR a negative PCR test (conducted up to 72 hours before arrival).