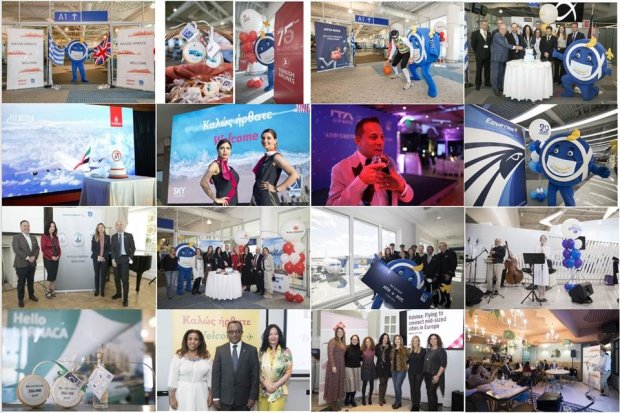 Building TRUE and STABLE relationships with airlines, is our…SuperPower!!!
Athenians are known for their warm hospitality and keeping this tradition alive, in 2021 -2022 we welcomed back many of our old fellow Airline partners and made new friends by getting new services such as Boston by Delta Air Lines, Birmingham and Manchester by Jet2.com, Dusseldorf by Condor and many more.
But at ATH, we don't stop when we get a new service, nope! We join our powers to make these routes "take off". For example, is it the first time you fly to Athens International Airport? A customized Inaugural experience will wait for our Airlines' passengers upon arrival and a fully-fledged Marketing Plan is offered to the airline wholly financially covered by us! And we don't stop there! Our Airlines can share their big news with the local media and their trade partners in tailor made, perfectly organized events by our team. Moreover, in alignment with each brand and the respective market survey findings, we prepare unique activations and tailor-made events.
When it comes to social media, we post catchy contests to create awareness for Athens and enhance demand. Always trying to make our audience part of our team, we share in Facebook, Instagram and Twitter the most remarkable moments from our events. Our digital campaigns especially designed for our airlines, combine the best appropriate sites & formats to ensure their highest viewability rate aiming at sustaining their profitable operations in the local market.
We are not over yet!
Either listening to the radio while driving or while walking around Athens, we are sure you will not miss our Airlines' ads promoting them through radio campaigns and/or outdoor advertisement.
All our actions for our airlines are tailor-made for each and everyone of them! Based on extensive research and customized surveys, our Marketing Plans are aligned with the unique brand identity of each airline, aiming at their profitability in the Athens market!
… and some numbers …
During the Pandemic years 20 & 21 and in 2022, so far :
Athens International Airport, organized and fully sponsored more than 50 Terminal, Press & Trade Events, with an average participation of at least,
-40 Media representatives at the press events
-80 Trade representatives at each trade event
-10 Radio Campaigns
-15 Digital Campaigns
-25 Terminal Advertising Campaigns
More than 50 Banners hosted at www.aia.gr
20 branded vehicles for outdoor promotion of the airlines at the public means of transportation
+100 Marketing Activations
20 Press Releases
2board, our magazine at our Airlines' Service:
-80 Insertions of Airlines
-50 destinations promoted at 2Board magazine
-150 Social Media Posts
Record in social media organic of 1.296.000 people and 11.000 post likes
As a result, we offer a clear vision on local sales and marketing activities, culminating in bespoke annual marketing support programmes tailored to each carrier. Even during the pandemic, we remained committed to substantially supporting our airlines: we have spent €1,5 million on marketing support in 2020-2021 and have already planned the substantial marketing budget of €2,5 million until the end of 2022.
Click and enjoy Athens International Airport - Airline marketing highlights 2021 - 2022